Vintage Uzbek Suzani Embroidery
TXW1
DESCRIPTION: A vibrant Suzani coverlet, finely embroidered with silk threads on a cream-colored cotton ground. Suzani (a word meaning "needlework") is a type of embroidered tribal textile made in Uzbekistan, Kazakhstan and other Central Asian countries. These coverlets are traditionally made by Central Asian brides for their dowry and presented to the groom on the wedding day.
This vintage suzani was acquired in Turkey from an Uzbek family and displays traditional design motifs such as... Click for details
$1,200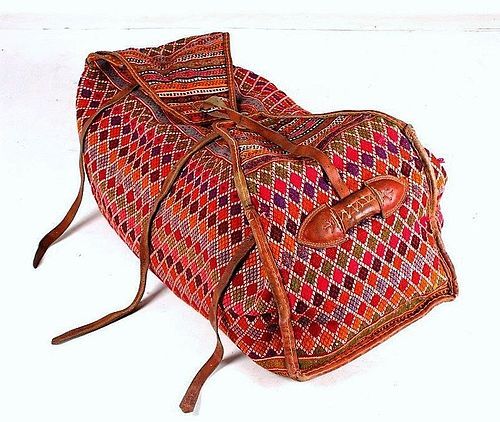 Antique, Hand Woven Turkish Dowry Bag
TX73
DESCRIPTION: A large, colorful Turkish dowry bag, hand woven from wool and bordered with leather straps and handles. The vibrant, multicolored geometric design covers all sides of the bag and the two top flaps. The bag is secured by three long leather straps with buckles that close the bag horizontally, and a leather strap and buckle that secure the two top flaps. Two substantial leather handles are attached to each end for carrying.
Bags like this one were often used to deliver the... Click for details
$1,075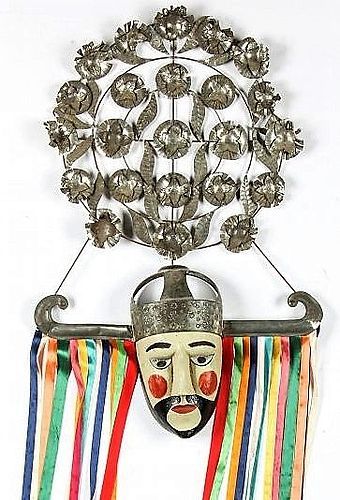 Vintage Mexican Vaquero Festival Dance Mask
W-FIG28
DESCRIPTION: An artful and flamboyant Mexican festival vaquero (cowboy / cattle driver) dance mask, the face carved from wood and painted with a black beard and bright red cheeks. Attached to the head is an elaborate tin "crown" with wide bull horns and flamboyant decorative headdress of double cut and pierced tin flowers. Embellishing the horns are rows of long, brightly colored ribbons. This mask would have been a festive, celebratory costume worn during the Dance of the Vaqueros,... Click for details
$1,295
Large, Square B & W Japanese Arita Imari Dish, Edo
CP136
DESCRIPTION: This large, boldly decorated early 19th century Japanese Arita sometsuke (blue and white) porcelain dish in square form ("kaku-zara") is hand painted in deep cobalt blue with a center floral design against thin parallel lines. This center ground is bordered by diaper designs around the raised rim with floral cartouches at each corner. Such a dish was used in Japanese tea ceremonies for serving raw fish or shellfish. The reverse is hand painted with stylized decorations in... Click for details
$360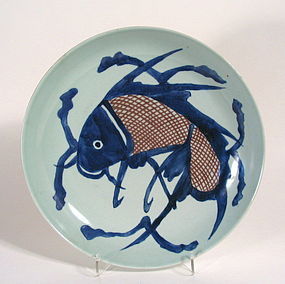 Large Chinese Underglaze Blue and Red Fish Plate, Qing
CP27
An attractive antique Chinese porcelain plate, hand painted with a large, leaping blue carp with russet colored cross-hatched scales. The carp was an auspicious fish in China and a symbol of perseverance and success, often applied to success in business enterprises and state examinations. In excellent condition (no cracks, chips or hairlines), this deep-dish plate would have served as a large shallow bowl as well. Dating from the Yongzheng to Qianlong Periods (AD 1723 - 1795), this plate is... Click for details
$260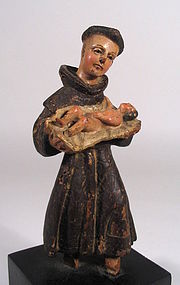 18th C. Spanish Colonial Santo, St. Anthony with Christ Child
W-FIG19
DESCRIPTION: An engaging Spanish Colonial carved santo figure depicting Saint Anthony holding the Christ Child. St. Anthony of Padua is perhaps one of the most loved and admired saints in the Catholic Church. Born in Portugal in 1195, he was a Portuguese Catholic priest and friar of the Franciscan Order who later did much of his work in Italy. Here St. Anthony is dressed in a brown friar's habit with head tilted to one side, gently holding the Christ Child in his arms. This figure, dating... Click for details
$780
3 Previous
1
8
14
20
24
25
26
27
28
33
38
43
49
Next 4