Two Pair Antique Wood Ice Skates
A-UTL4a
DESCRIPTION: Two pair of antique ice skates, one large pair with original leather straps and curled tips, plus one smaller wooden pair. Stamped on the blade of the larger pair is "BATAVUS, HEERENVEEN." Batavus is a Dutch bicycle manufacturer which began in 1904, and was located in Heerenveen, a town in the north of the Netherlands. In the 1930's, Batavus diversified to include tricycles, motorcycles, and ice skates. Heerenveen went on to gain international prominence in speed skating,... Click for details
$90.00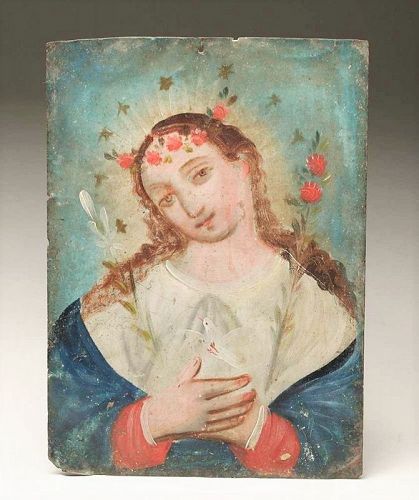 Antique Mexican Painted Tin Retablo - El Alma de Maria
W-WD13
DESCRIPTION: A beautiful rendition of El Alma de Maria on tin, capturing the mystical descent of the Holy Ghost upon Mary and the announcements of the Incarnation. The young Mary is wearing a crown of pink roses, a pearl necklace and pearl earrings. With hands crossed over her heart, she presses the white dove toward her. This is a somewhat rarer depiction, because she holds not only a staff of lilies in one hand, but also a branch of roses in the other. Symbolizing her purity and exemption for... Click for details
$480.00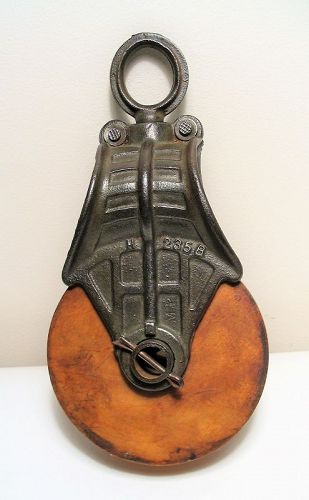 Vintage Cast Iron Pulley with Wood Wheel
A-UTL8
DESCRIPTION: A tribute to vintage industrial design, this attractive pulley, with a heavily cast iron shaft and swivel eye, is attached with snatch pins to a smooth, grooved wooden wheel. The pulley is a simple machine that, when used with a rope, will reduce the amount of force needed to lift a load. These make wonderful decorative accents within a country, farmhouse or industrial decor. In excellent working condition, no rust. DIMENSIONS: 12" long x 6" wide.
$135.00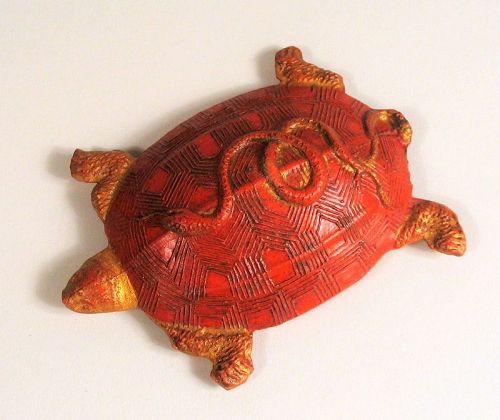 Antique Chinese Red Ink Cake, Turtle Form
SCH389
DESCRIPTION: A red and gilt ink cake in the form of a turtle with a curled snake on its back. In ancient China, the tortoise and the snake were thought to be spiritual creatures symbolizing longevity. Both the front and back have been finely pressed in raised relief with gilt accents. One of the treasures of the Chinese scholar's studio, this ink cake is in excellent condition, in its original box, and dates from the first quarter of the 20th C. or earlier. DIMENSIONS: 3" long (7.7 cm).
$295.00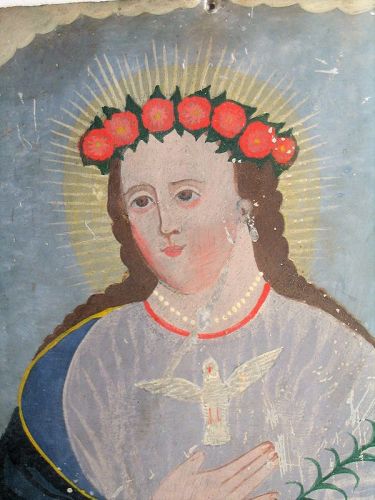 Antique Mexican Retablo - El Alma de Maria
W-WD12
DESCRIPTION: This antique 19th c. painted tin retablo features a lovely rendition of El Alma de Maria, capturing the mystical descent of the Holy Ghost upon Mary and the announcements of the Incarnation. Mary is wearing a crown of pink roses, a pearl necklace and pearl earrings. Her right hand is crossed over her heart where a white dove also appears. She holds a staff of lilies in her left hand, symbolizing her purity and exemption from worldly sins. The Virgin is dubbed a "rose without thorns"... Click for details
$650.00
Vintage Pair Tall Wooden Exercise Clubs or Juggling Pins
A-UTL6
DESCRIPTION: A good pair of wooden exercise clubs / juggling pins, each painted with a wide horizontal orange stripe between two thin black stripes. Good condition with normal wear. DIMENSIONS: Each is 18" tall x 3" diameter.
$100.00 Pair
3 Previous
1
2
3
4
5
6
12
18
24
30
36
42
43
Next 4