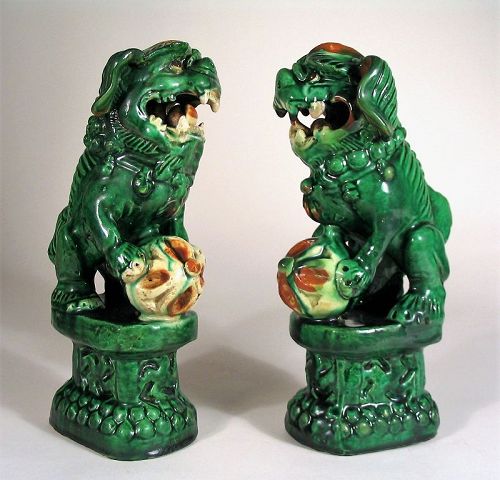 Early Pair Antique Chinese Pottery Foo Dogs, Qing
PTF148
DESCRIPTION: A fierce pair of Chinese pottery foo dogs, early Qing, 18th/19th C., covered with a heavy green glaze and seated on pedestals. Each bares its teeth ferociously while holding a ball between their front paws as well as in their mouths. Good detail with finely ribbed backs and curled manes. Very good condition. DIMENSIONS: Each approximately 9 ½" high (24 cm) x 5" wide (12.7 cm).
$985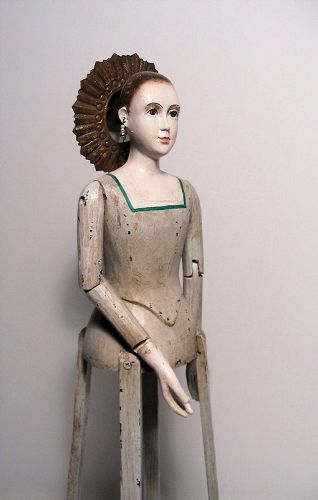 Folk Art Santos Cage Doll with Tin Halo
W-FIG27
DESCRIPTION: An elegant and stately santos cage doll (a Virgin Mary bastidor), with grey bodice and hand carved, delicate wooden face in sacred, peaceful expression, framed by a radiant gilt-tin halo. Her arms and hands are articulated from the shoulder; four wooden slats form the frame. Good condition. DIMENSIONS: 24" high; 6 7/8" diameter base.
$330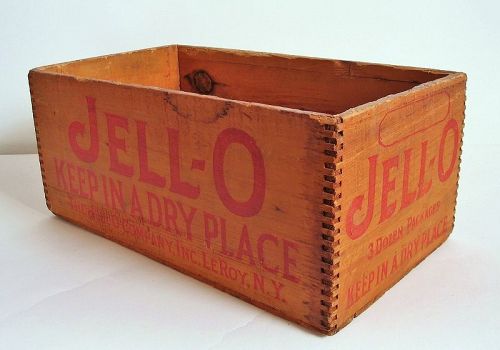 Vintage Jell-O Advertising Crate
A-BSK13
DESCRIPTION: Vintage wood advertising crate with "Jell-O" and other messages stenciled on four sides; dovetailed corners. Good condition, expected usage ware, sturdy. DIMENSIONS: 14" long x 6" high x 8"deep.
$195
Handsome Vintage S.E. Asian Fishing Creel
BSK79
DESCRIPTION: An attractive Asian fishing creel, fashioned from woven split bamboo with wood base and neck, and an attached tightly woven string for hanging. A creel is used for carrying fish or blocks of peat moss which function as an evaporative cooler when dipped into a creek, keeping the catch chilled. This type of creel with a woven, partially open top can also be used to catch lobsters and other crustaceans. Good condition with a nice aged patina. DIMENSIONS: 9" wide x 11" high x 6... Click for details
$225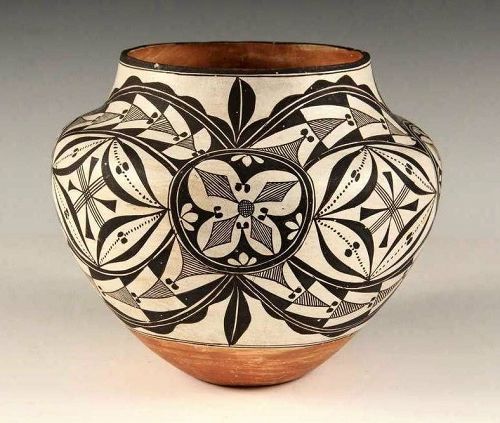 Early Acoma Black on White Coiled Pottery Olla
W-PT11
DESCRIPTION: Fine Acoma Pueblo terra cotta olla, circa 1920, with intricate black on white geometric designs with blossom, eye and cross themes; unsigned, good condition, no chips or repairs. DIMENSIONS: 8 3/4" high x 9 1/8" diameter.
ABOUT ACOMA POTTERY: Thin, hand fired walls (a common and sought after characteristic of Acoma pottery), light weight, and geometric designs characterize Acoma pottery. The Acoma Pueblo, also known as "Sky City," is located 50 miles west of Albuquerque near... Click for details
$5,890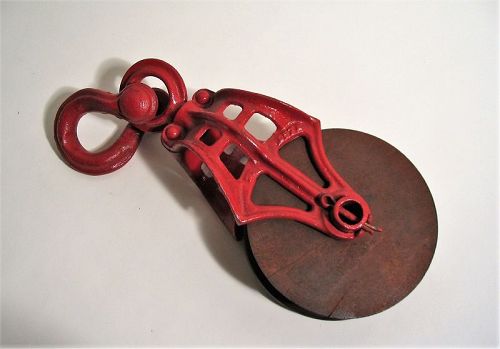 Vintage Cast Iron Pulley with Wooden Wheel
A-UTL7
DESCRIPTION: This wonderful old pulley reflects the beauty of vintage industrial design and today makes a decorative accent in a country, farmhouse or industrial decor. The pulley is a simple machine that, when used with a rope, will reduce the amount of force needed to lift a load. On this pulley, the heavily cast pierced iron shaft and swivel eye are painted red, and are attached with a snatch pin to a grooved wooden wheel. Excellent, workable condition. DIMENSIONS: 13 ¼" long; wheel... Click for details
$120
3 Previous
1
2
4
6
7
8
9
10
11
23
35
47
59
Next 4