Pair Vintage Mexican Piglets Salt & Pepper Shakers
W-CP8
DESCRIPTION: A charming pair of earthenware hand-painted piglet salt and pepper shakers, each pig sporting a bow tie and cap. Good condition, "MEXICO" stamped on base, cork stoppers. DIMENSIONS: Each approximately 3" high.
$65 Pair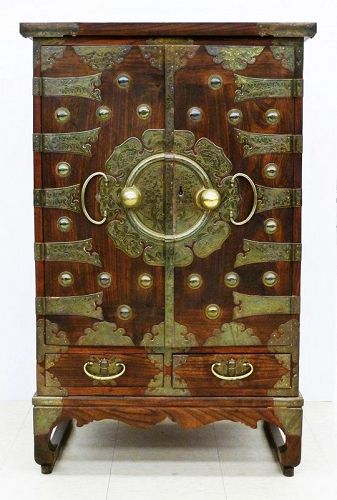 Korean Bandaji Chest with Elaborate Brass Mounts
CCM18
DESCRIPTION: A tall Korean bandaji chest with elaborately etched brass mounts, having hatchet-shaped hinges on two doors over two lower drawers with brass butterfly mounts. A large flower-shaped center medallion with etched flowering trees dominates the front and contains the locking mechanism (original key included). The two doors open to reveal three small drawers (ideal for jewelry) over three larger drawers with bat-shaped mounts. The upper portion unlocks to reveal a drop front desk with... Click for details
$2,480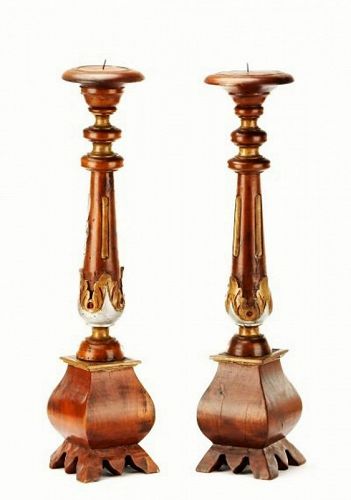 Pair of Vintage Italian Carved Wood Candle Prickets
W-DA1
DESCRIPTION: A handsome pair of walnut wood Neoclassical style carved and stained candle prickets with circular tops above turned, tapered and fluted shafts with leaf tip ornaments, above swelled bases with splayed feet. Italian, 20th century; silver and gilt highlights on each. Unmarked, good condition. DIMENSIONS: Overall height 25.25".
$465 Pair
Antique Checkers Game Board
A-FA2
DESCRIPTION: An early red, black and cream polychrome painted marble game board with metal frame. From the property of a Pawling, New York collector. Two signatures on back with the last name of "Dolan." Good condition, original paint. DIMENSIONS: 19 1/2" x 19 3/4".
$760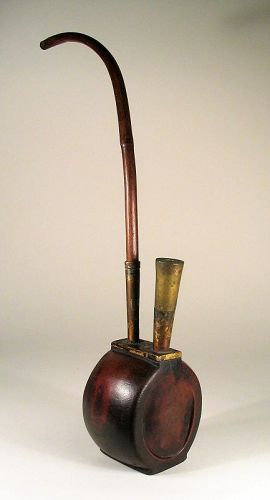 Antique Chinese Bamboo Pipe
MS63
DESCRIPTION: A Qing dynasty bamboo pipe, possibly used for either opium or tobacco, with a bulbous body crafted from a large segment of giant bamboo. Mounted onto this segment are heavy brass fittings, one for the tubular tobacco bowl with its long brass shaft descending into the body. The other brass tube holds the long, bent bamboo stem that is used to draw the smoke out. Very good condition with a nice patina. DIMENSIONS: 16" high assembled (40.5 cm). The bamboo body is 3 ¾" wide (9.5... Click for details
$295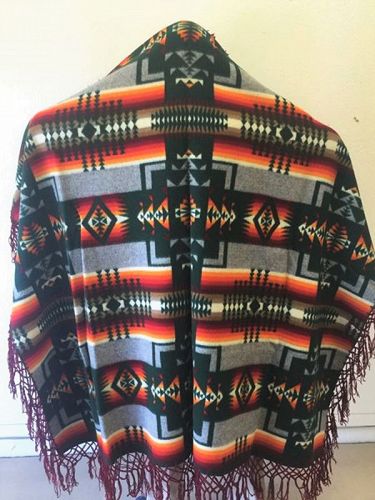 Pendleton Wool Blanket, Robe or Throw
W-TX10
DESCRIPTION: Great reversible pattern Pendleton blanket with horizontal rows of red, orange and white chevrons. The background is dark green on one side and grey on the reverse, edged with a dark red crisscross fringe on all sides. Perfectly sized for either a twin bed blanket or a wearable wrap. Pendleton label, late 1900s, good condition with no holes or tears. DIMENSIONS: 67" x 70" + 6" fringe.
$295
3 Previous
1
2
4
6
7
8
9
10
11
22
33
44
56
Next 4