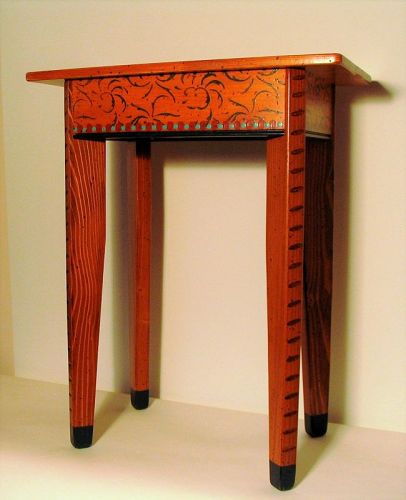 Artisan Crafted Console or Side Table, David Marsh
A-TBLS2
DESCRIPTION: Finely hand crafted small console table, perfect for an end table, bedside table, a printer, or anywhere you need a little extra surface space. Painted with green vine stencils and alternating red and light blue dots. Like new condition. DIMENSIONS: 30" high x 24" wide x 13.75" deep.
David Marsh furniture is uniquely designed using sustainable pine and reclaimed wood. Each piece is hand crafted by David and his fellow craftsmen in his Texas studio. The distinctly... Click for details
$585
Small Chinese Export Silver Filigree Box with Coral
JO58
DESCRIPTION: A beautiful octagonal pill (or snuff) box, the top with silver filigree wire work around inset coal stones forming the shape of a five-petal flower. The box itself is silver over copper and on the inside is stamped "Made in China." Amazingly, the original Frost Bros. retail tag remains on the inside. Frost Brothers was a high-fashion retail store based in San Antonio, Texas, that opened in 1917 and went out of business in 1988. This box dates from C. 1920 to 1945 (Republic... Click for details
$170
Early Slate Game Board
A-FA1
DESCRIPTION: A handsome, engraved and painted slate checkers and chest game board, the solid board with beveled corners and alternating brown squares with round felt pads on back four corners. Sourced in Vermont, very good condition. DIMENSIONS: 15 1/4" x 15 1/2".
$985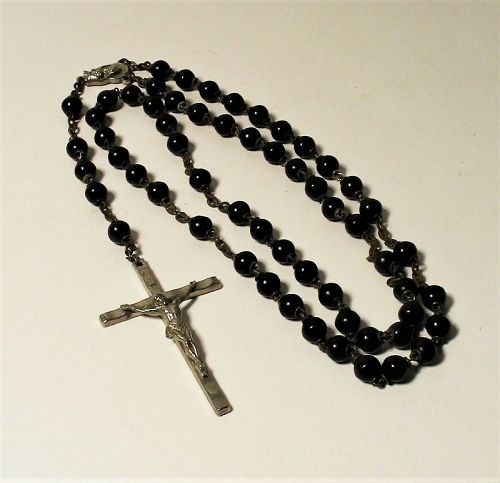 Antique Silver and Ebony Italian Rosary, Ex Saint Katharine Drexel
W-JO14R
DESCRIPTION: A large ebony bead rosary with silver crucifix from the estate of Saint Katharine Drexel. The rosary has 59 round, black ebony beads connected with linked chain and terminating in a silver crucifix with "Italy" stamped on the lower back. Very good condition, dating from the late 19th to early 20th C. PROVENANCE: The Dahlgren, Drexel, Wharton Estate. This crucifix is part of a larger collection of rosary beads, crosses and bracelets with Catholic medallions, each belonging to... Click for details
$295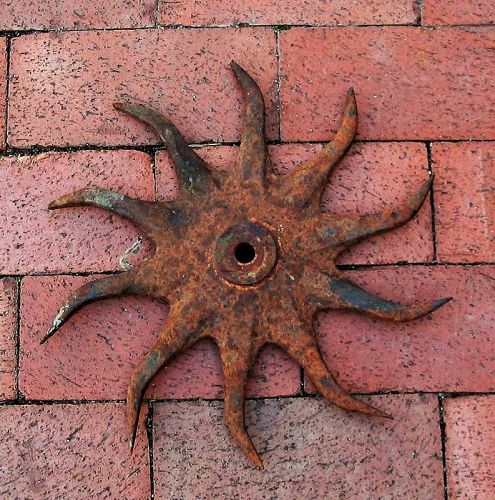 11.5" Antique Cast Iron Garden Tiller Wheel, Industrial/Garden Art
A-MTL8
DESCRIPTION: A swirling, cast iron rotary tiller wheel with ten spokes spiraling from the center. These old, artful farm implements make wonderful authentic accessories for today's Industrial, Country, or Farmhouse Décors. They also make delightful garden accents. Please see the last photo for size comparison with our 14" tiller, #A-MTL7. Light rust covering, extremely sturdy, no repairs. DIMENSIONS: 11.5" diameter.
$75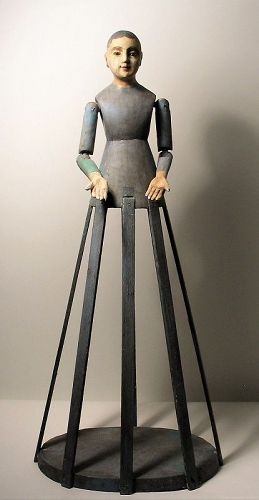 Tall, Elegant Santos Cage Doll
W-FIG22
DESCRIPTION: A stately santos cage doll (a Virgin Mary bastidor) with blue bodice and hand carved head with glass eyes, the face with a beautiful, peaceful expression. Her arms are articulated at the shoulder and elbow, and eight wooden slats form the frame. A lovely santos, good condition, minor paint chips. DIMENSIONS: 29'' high x 12.5'' wide at the base.
$575
3 Previous
1
2
3
4
5
12
19
26
33
40
47
54
56
Next 4