Chinese Scholar's Cloisonné Calligraphy Brush
SCH1
DESCRIPTION: An attractive scholar's brush, the cloisonné handle having colorful vine and floral designs on a black ground. The ferrule and tip are both crafted from turned wood while natural bristles form the full brush. In excellent condition, this is a handsome, well made brush dating from the early 20th C. DIMENSIONS: 13.5" long (34.2 cm).
$285.00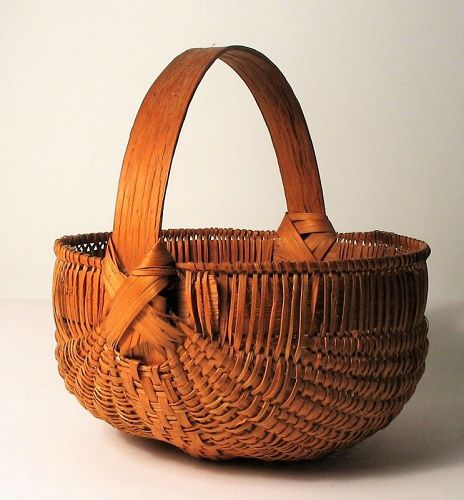 Fine Antique Oak Splint Tennessee Gizzard Basket
A-BSK5
DESCRIPTION: A hand woven gizzard basket, c. 1890-1900, originating from Crossville, Tennessee. Gizzard baskets, sometimes known as the bow basket or egg basket, are made forming the handle and rim first, then are lashed together to form a frame. Into this lashing, ribs are inserted which hold the weaving that forms the shell of the basket. Gizzard baskets are the "Cadillac" of white oak baskets and are prized by collectors, being difficult to make and time-consuming. This basket has the... Click for details
$275.00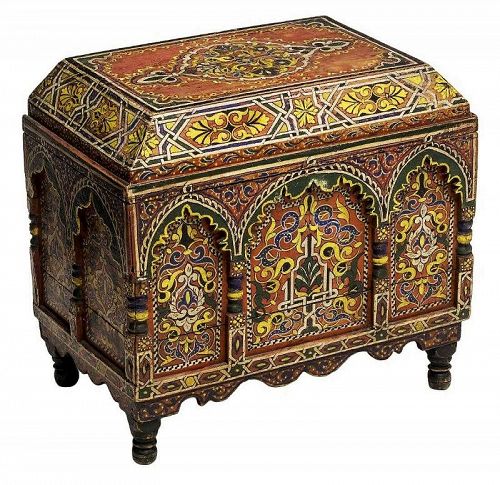 Antique Arabesque Polychrome Lidded Box / Chest, 19th C.
TBS43
DESCRIPTION: An exotic and intricately painted polychrome lidded wood chest of Italian Arabesque design. The body is decorated with carved architectural form arches and columns on three sides with intricately painted geometric and floral designs on a red ground. The back is also painted and has a large center pomegranate medallion with floral designs. Rising on turned feet, a scalloped apron forms the base; the hinged lid conceals open storage. Some paint loss and separation to wood.... Click for details
$1,150.00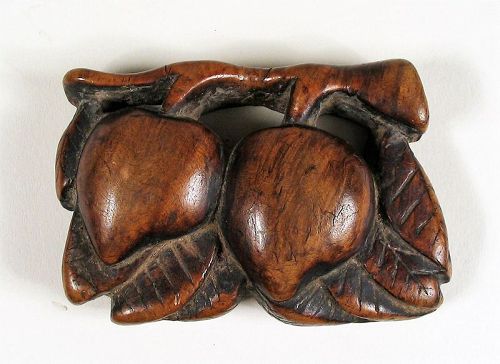 Large Chinese Double Peach Toggle
SN123
DESCRIPTION: A nice old Chinese toggle carved from a striated wood in the form of two peaches. The peach is a symbol of longevity, and this thick toggle has a wonderful aged patina that only comes from age and handling. Strung with a cord through the holes under the stems, it would have hung from a sash and been used as a counterweight to a tobacco pouch or other utilitarian object. A wonderful example of Chinese folk art, this toggle dates from the 1700's. DIMENSIONS: 2 ½" wide (6.4 cm) x... Click for details
$470.00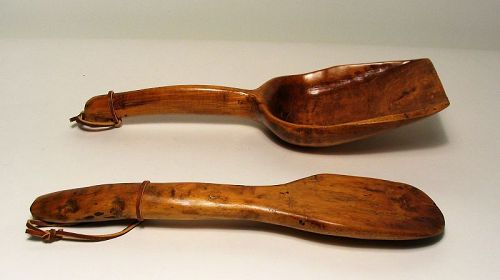 Pair Antique Maple Kitchen Utensils
A-UTL1B
DESCRIPTION: Nice old wooden spatula and shovel-shaped scoop, hand carved from maple wood. These have been waxed showing a beautiful patina, and new leather straps are attached for display. DIMENSIONS: Scoop = long x 4.24" wide. Spatula = 12" long x 2 5/8" wide.
$75.00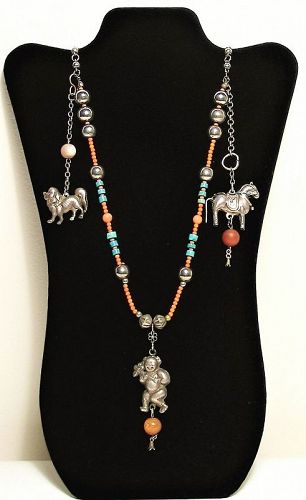 Antique Chinese Silver, Coral and Turquoise Necklace
JO68
DESCRIPTION: A beautiful antique Chinese necklace strung with pink coral, turquoise and silver beads. Three silver figural pendants hang from the necklace, including a foo dog, a horse with saddle and bridal, and a child holding a large flower, each with agate beads. Qing Dynasty, excellent condition. DIMENSIONS: 28.5" end to end (72.5 cm).
$735.00
3 Previous
1
2
3
4
5
10
15
20
25
30
35
40
43
Next 4