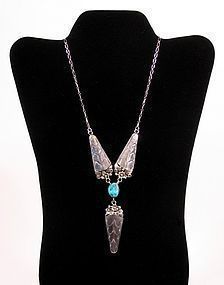 Navajo Sterling & Turquoise Necklace, Signed John Delvin
W-JO9
DESCRIPTION: A lovely sterling silver necklace consisting of three silver feathers, each terminating in a leaf and flower design and each attached to a natural, light blue turquoise cabochon with brown matrix (veining) centered between them. Very attractive, perfect condition, excellent workmanship and very wearable. Signed: "D" (John Delvin, master Navajo silversmith). See the last photo showing this necklace with other pieces from our Native American jewelry collection. DIMENSIONS: 18"... Click for details
$455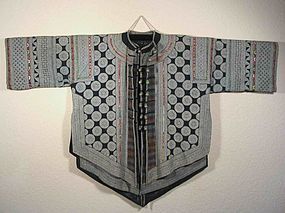 Remarkable Chinese Minority Tribe Batik Jacket and Vest
TX58
DESCRIPTION: A fine two piece batik jacket and matching vest by the ethnic minority tribe "Ge," a subgroup of the Miao culture. The Ge people live along the banks of the Chong-an-jiang River in Guizhou Province and are superlative batik artisans.
For this labor intensive creation, hot wax was applied to the thick cloth in geometric designs consisting of a background of "wheels" edged in wide linear borders. The cloth was then dyed in indigo, dried, and the wax melted and washed... Click for details
$995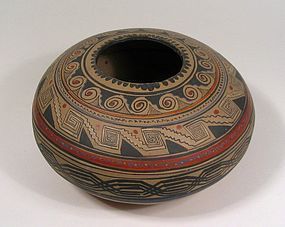 Vintage Southwestern Pottery Seed Bowl
W-PT1
DESCRIPTION: An intricately painted Native American pottery seed pot or bowl, dating from the early to mid 20th C. (1930 - 1950). This ovoid pot is painted in concentric circular bands of geometric designs separated by red stripes on a taupe colored ground. On the bottom is written "#22 Vase Navajo Ariz," along with other collectors' identification marks and numbering systems. Very good condition, minor scuffs and pockmarks; no chips, cracks or restorations. DIMENSIONS: 5" high (12.7 cm) x 9... Click for details
$295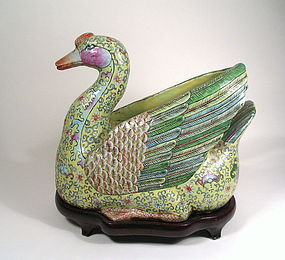 Large, Rare Chinese Export Famille Rose Goose, Qing
PTF61
DESCRIPTION: This large and impressive Chinese porcelain goose, painted in a famille rose pallet, is seated on folded legs with upturned tail and rests on a raised, fitted wood stand. Modeled with a slightly turned head and erect wings that touch at the tips, the body is enameled in a yellow ground with a pink bat and green scrolling vine motif, the lightly molded and naturalistically marked feathers in shades of blue and green. Unmarked base but judged to be late Qianlong to Jiaqing Periods... Click for details
$4,975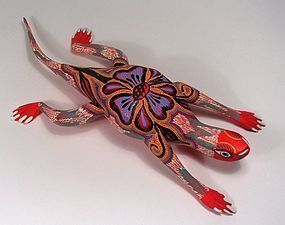 Oaxacan Folk Art Alebrije Lizard by Sergio & Hugo Santiago
W-FIG5
DESCRIPTION: Oaxacan woodcarvings, also known as alebrijes, have been a tradition for generations in several small villages outside the capital of Oaxaca, Mexico. It has only been in the past 40 years that these beautifully carved and painted figures have become popular, and are now collected worldwide. Using rudimentary tools, these Mexican artists create fascinating figures out of fresh-cut copal wood. After drying and sanding, the carvings are meticulously painted with intricate patterns and... Click for details
$180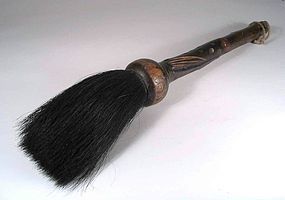 Large Wooden Chinese Calligraphy Brush, 19th C.
SCH279
DESCRIPTION: A large Qing Dynasty artist's calligraphy brush fashioned from wood and carved in a naturalistic design. The long black bristles are attached to a bulbous ferrule with the handle carved in a design reminiscent of bamboo leaves. This is a substantial, sturdy brush that shows usage wear and minor splitting on the handle. DIMENSIONS: 17 ¼" long (43.8 cm).
$195
3 Previous
1
10
18
26
33
34
35
36
37
40
43
46
48
Next 4