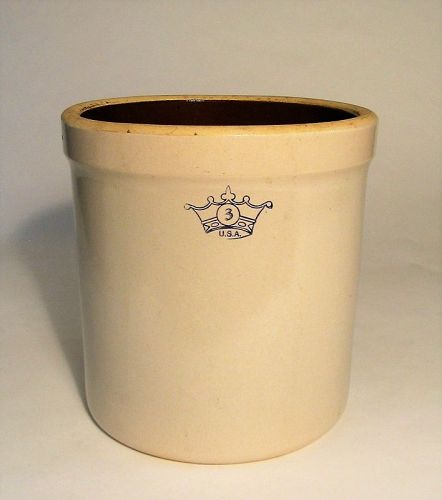 Large, Vintage Roseville Stoneware Crock
A-CP1a
DESCRIPTION: A three gallon Roseville stoneware crock with an off-white exterior glaze and dark brown interior. The bottom is inscribed: "3 gal., R.R. P. Co., Roseville, Ohio, USA." These larger crocks are perfect for your antique kitchen implements such as rolling pins, large wooden spoons, etc. Excellent condition, no chips. DIMENSIONS: 11" high x 11" diameter.
$120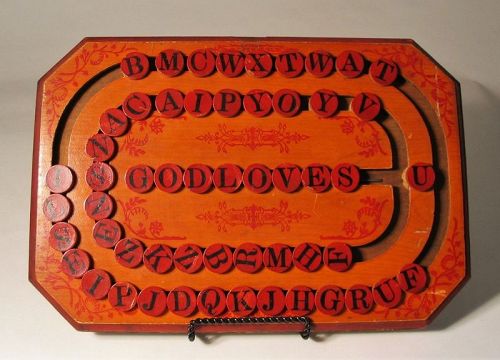 Antique Cress Educational Game Board, Early 20th C.
A-FA5
DESCRIPTION: This child's word learning game has spool type wood letters that slide around the two outer tracks in order to form words on the center track. An all wood board with beveled edges, this bright and cheery game has 1912 to 1916 patents. A great early educational piece for game collectors, this one is remarkable as there are neither missing letters nor breaks to the letters. Very good condition with normal usage wear. DIMENSIONS: 13.5" wide x 9.25" high.
$280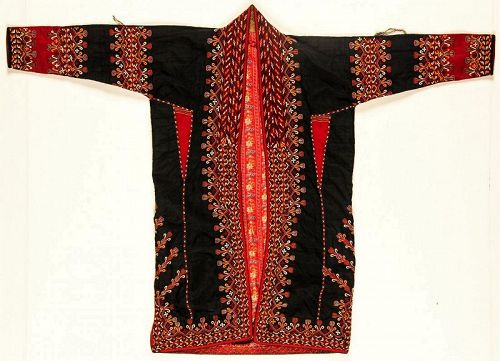 Beautiful Antique Silk Embroidered Tekke Turkmen Coat
TX72
DESCRIPTION: A silk embroidered woman's Tekke Turkmen chapan/coat, lavishly embroidered in traditional yellow, white and red designs on a black silk and cotton ground, lined in a red cotton print fabric. Such coats are reserved to wear only on special occasions such as weddings. Excellent condition, Turkmenistan, early 20th c. Please see a similar coat in the last photo for how such coats are worn. DIMENSIONS: 63" across the arms x 45" long (160 x 114 cm).
$850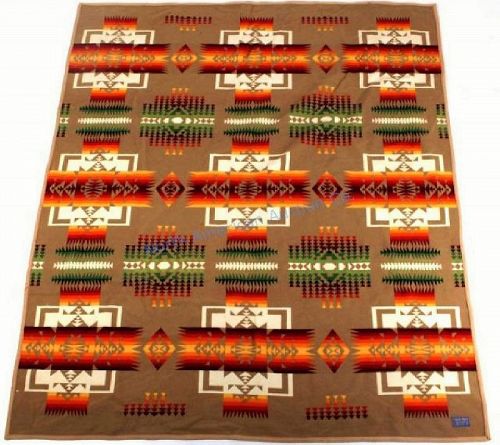 Large Pendleton Indian Pattern Wool Blanket, Beaver State
W-TX17
DESCRIPTION: A large, colorful Pendleton wool blanket in the geometric Chief Joseph pattern. Chief Joseph led the Nez Perce tribe native to northeastern Oregon in the late 1800s. Widely admired for protecting his people and speaking the truth, he is honored with this design, symbolizing bravery. The combination of beauty, quality, durability and the superior warmth of their wool blankets earned Pendleton a reputation for superb craftsmanship and quality, which continues to be a hallmark of the... Click for details
$395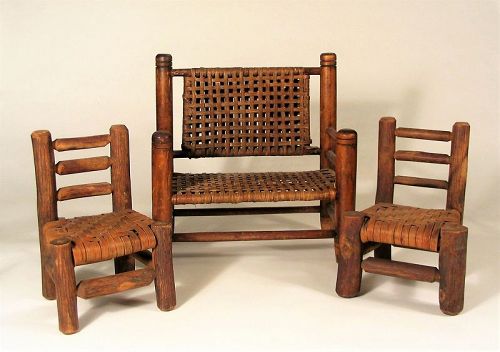 Vintage Miniature Wood Splint Seat Bench & Chairs
A-FA4
DESCRIPTION: A great vintage set of rustic furniture in salesman's sample size (larger than doll house furniture), consisting of a bench and two chairs, both with splint seats. Very good condition, please see photos. PROVENANCE: The Anne Narosny Doll Collection Estate. DIMENSIONS: Bench 12'' high x 12'' wide x 7'' deep. Chairs 9'' high x 6'' wide x 5'' deep.
$150 Set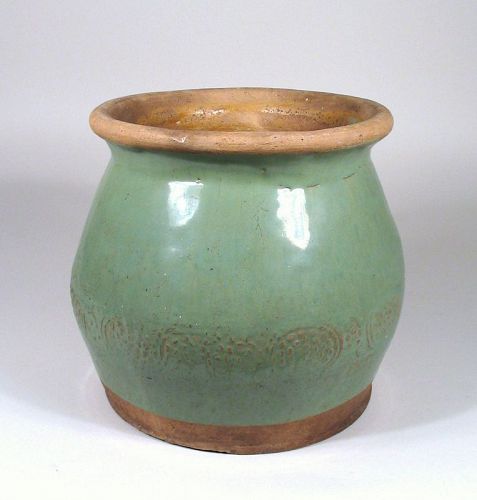 Chinese Celadon Glazed Pottery Jar
GD5
DESCRIPTION: An attractive antique Chinese stoneware jar with wide body and outward turning rim, hand crafted with a pleasing celadon glaze over a raised border of circular designs. In original firing condition and dating from the early 20th C. Though the origin is Chinese, this crock would lend a nice touch of "country" in a cottage or farmhouse setting. DIMENSIONS: 7.5" high (19 cm) x 8" diameter (20.3 cm).
$120
3 Previous
1
6
10
14
18
19
20
21
22
29
36
43
48
Next 4