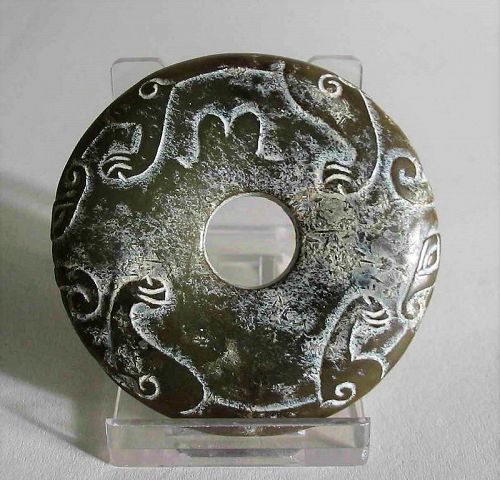 Chinese Carved Jade Bi Disk or Toggle
JHS124
DESCRIPTION: An appealing green nephrite disk or bi, carved with two chilong dragons whose heads and bodies ring the edges with their limbs draping down on either side. From a mid-west collection, the design, color and form are quite pleasing and could be used as a toggle or an eye-catching pendant when incorporated into a necklace. DIMENSIONS: 2 5/8" diameter (6 cm), 2.25 oz. (64g) weight.
$270.00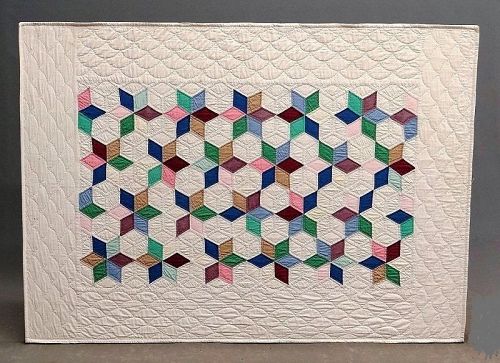 Vintage Crib Quilt, Mounted
A-TX3
DESCRIPTION: A lovely mounted crib quilt in a tumbling blocks pattern, the colors making the optical illusion of six point stars. Quilt is mounted with light sewing onto stapled muslin, and can be hung in two directions. From the collection of a Pawling, New York collector. DIMENSIONS: 39" x 54".
$795.00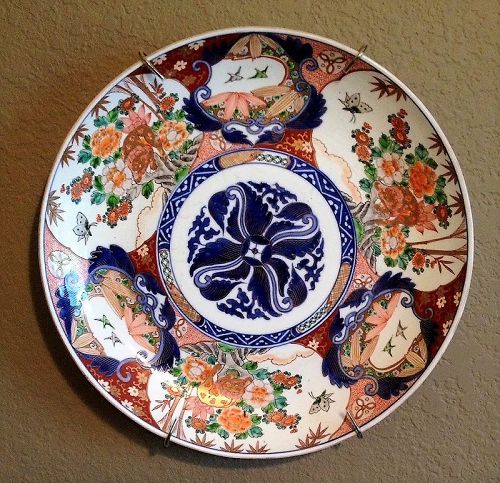 Fine Japanese Imari Charger, 19th C., Meiji
CP150
DESCRIPTION: Outstanding Japanese porcelain Imari charger, circa 1880, acquired in Brussels, Belgium. This charger is profusely painted in under-glazed blue, red, green and gilt with a central blue medallion of scrolls highlighted in gilt. Surrounding the medallion is a wide border of alternating cartouches enclosing pairs of birds with bamboo leaves, and flowers issuing from rockwork with butterfly. The reverse is painted with three sets of flowering blue branches. Perfect condition, no... Click for details
$895.00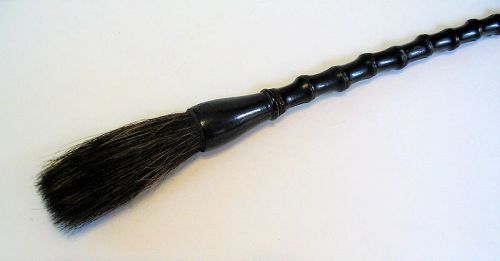 Fine Chinese Scholar's Bamboo Calligraphy Brush
SCH282
DESCRIPTION: A handsome scholar's calligraphy brush, crafted using a dark brown bamboo for the shaft which connects to a shaped horn ferrule and long, natural bristle brush. One of the "four treasures of the scholar's studio," this striking scholar's brush would have been used for calligraphy or painting. This attractive, well made brush dates from the early 20th C. DIMENSIONS: 13.25" long (33.5 cm).
$385.00
Vintage Geometric Navajo Rug
W-RG13
DESCRIPTION: A hand woven Native American rug in a traditional tumbling blocks pattern, a Navajo motif also found in Americana quilts. This attractive, double sided, flat weave wool rug uses natural dyes in red, black and tan to form the block designs. Very good condition, no holes or tears. DIMENSIONS: 55" x 35".
$1,250.00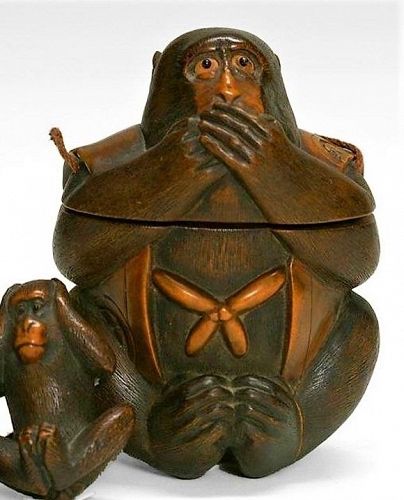 Exceptional Japanese Tonkotsu Sagemono, Three Wise Monkeys, Meji
SN97
DESCRIPTION: This outstanding and rare antique Japanese Tonkotsu, or tobacco box, has been crafted from boxwood in the form of the Three Wise Monkeys, with a beautifully carved Iwazaru, or "Speak no Evil" monkey, serving as the main tobacco container. Mizaru, or "See No Evil", forms the ojime and Kikazaru, or "Hear No Evil", forms the netsuke to complete the set. Each of these has been meticulously carved with inlaid eyes and finely delineated fur. The large monkey wears a... Click for details
$2,980.00
3 Previous
1
6
10
14
18
19
20
21
22
27
32
37
43
Next 4