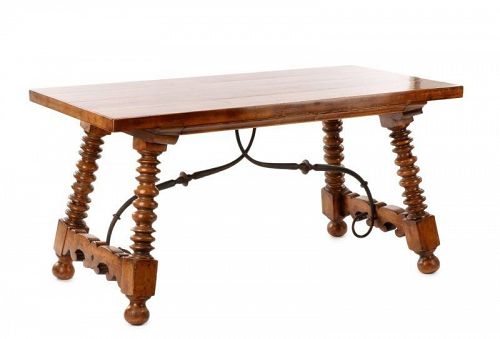 19th C. Spanish Renaissance Iron Mounted Trestle Table
W-TBL1
DESCRIPTION: An outstanding, solid walnut, trestle-form refectory table comprising four hand-turned splayed legs raised on ball feet, each pair joined by a thick, scrolling wood stretcher. The legs are attached to a solid single-plank rectangular top with two hidden drawers to one side. Beautiful scrolling iron stretchers attach the underside plank with the wood stretchers for strength and stability. This handsome, sturdy table could be used as a desk, for dining, or as a library table;... Click for details
$7,950.00
Antique Blue & White Stoneware Butter Crock
A-CP1b
DESCRIPTION: Antique American salt glazed stoneware crock with blue underglazed stripes, flowers, and "Butter" decorating the circumference. A "must have" for the country kitchen to hold eggs or fruit, 19th C., unmarked. Good condition; minor nicks to bottom rim. DIMENSIONS: 5.25" high x 7.25' diameter.
$75.00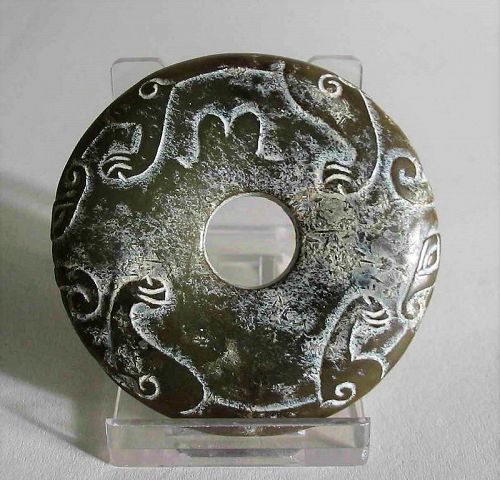 Chinese Carved Jade Bi Disk or Toggle
JHS124
DESCRIPTION: An appealing green nephrite disk or bi, carved with two chilong dragons whose heads and bodies ring the edges with their limbs draping down on either side. From a mid-west collection, the design, color and form are quite pleasing and could be used as a toggle or an eye-catching pendant when incorporated into a necklace. DIMENSIONS: 2 5/8" diameter (6 cm), 2.25 oz. (64g) weight.
$270.00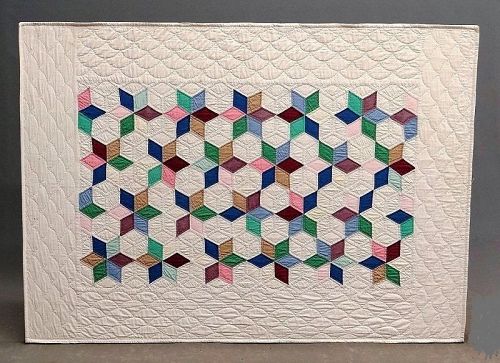 Vintage Crib Quilt, Mounted
A-TX3
DESCRIPTION: A lovely mounted crib quilt in a tumbling blocks pattern, the colors making the optical illusion of six point stars. Quilt is mounted with light sewing onto stapled muslin, and can be hung in two directions. From the collection of a Pawling, New York collector. DIMENSIONS: 39" x 54".
$795.00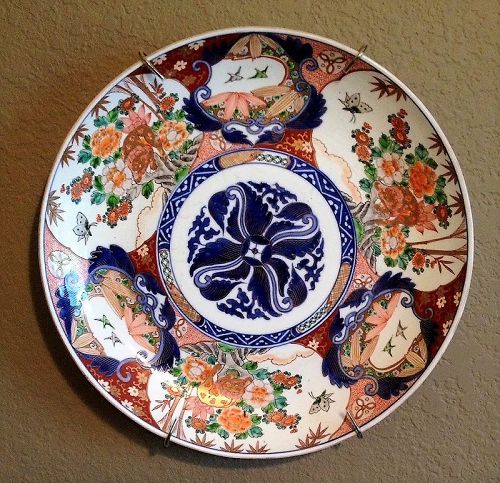 Fine Japanese Imari Charger, 19th C., Meiji
CP150
DESCRIPTION: Outstanding Japanese porcelain Imari charger, circa 1880, acquired in Brussels, Belgium. This charger is profusely painted in under-glazed blue, red, green and gilt with a central blue medallion of scrolls highlighted in gilt. Surrounding the medallion is a wide border of alternating cartouches enclosing pairs of birds with bamboo leaves, and flowers issuing from rockwork with butterfly. The reverse is painted with three sets of flowering blue branches. Perfect condition, no... Click for details
$895.00
Three Carved Wooden Shore Bird Figures
A-FIG1
DESCRIPTION: A delightful set of three vintage hand-carved and painted shore bird figures on stands, each by a different carver. Perfect decorative accessories for a beach or river cottage; all are in good condition. DIMENSIONS: Tallest is 14"; widest (bird with long bill) is 18".
Sold Sold, Thank you
3 Previous
1
6
10
14
18
19
20
21
22
28
34
40
44
Next 4