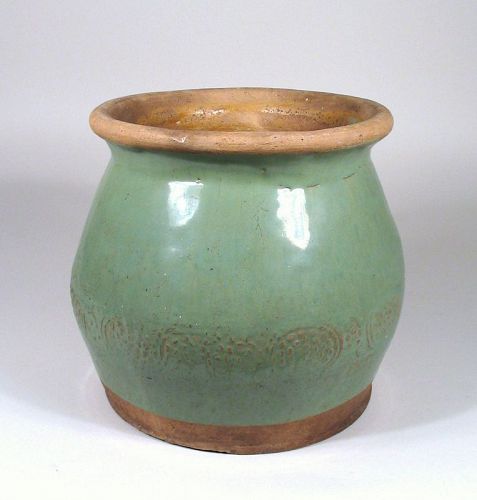 Chinese Celadon Glazed Pottery Jar
GD5
DESCRIPTION: An attractive antique Chinese stoneware jar with wide body and outward turning rim, hand crafted with a pleasing celadon glaze over a raised border of circular designs. In original firing condition and dating from the early 20th C. Though the origin is Chinese, this crock would lend a nice touch of "country" in a cottage or farmhouse setting. DIMENSIONS: 7.5" high (19 cm) x 8" diameter (20.3 cm).
$120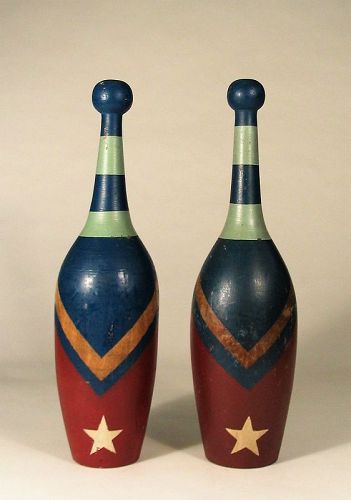 Pair of Large Painted Juggling Pins or Exercise Clubs
A-UTL9
DESCRIPTION: Fabulous pair of vintage wooden exercise clubs or juggling pins, brightly painted with stripes and stars in colors of blue, sea-green, and red. Original paint with scuffs from use, please see photos. DIMENSIONS: each 18.5" high; diameter 5". Nice weight at appx. 3 lbs. each.
$140 Pair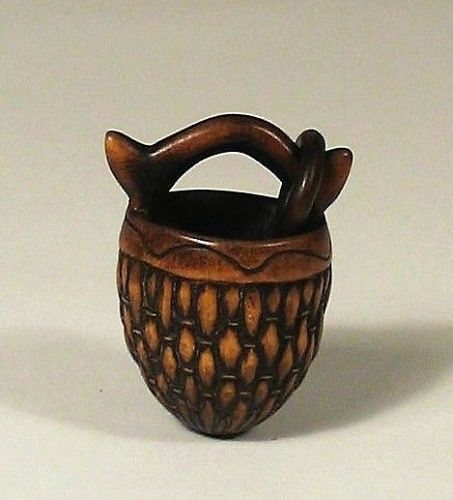 Antique Chinese Boxwood Basket Toggle, Qing Dy
SN92
DESCRIPTION: A fine Chinese boxwood water-well basket toggle, intricately carved in an acorn shape with a realistic and detailed basket weave pattern with carved wood rim. The arched overhead handle has a free-carved wood ring attached; the interior is hollowed out. Excellent condition, a beautiful toggle, 19th C. For a similar example see: Schuyler Cammann, Substance and Symbol in Chinese Toggles, #188, p.228. DIMENSIONS: 1-3/4" high.
$720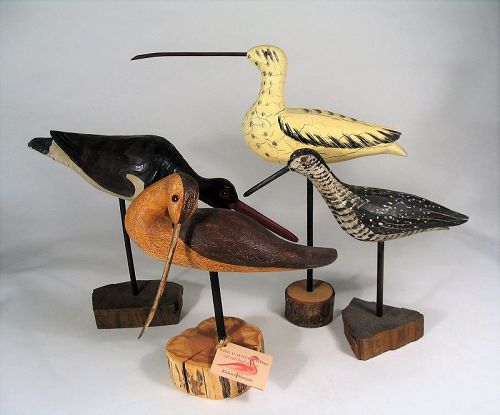 Four Vintage Carved Wooden Shore Bird Figures
A-FIG2
DESCRIPTION: A delightful assembled set of four hand-carved and painted shore bird figures on stands, each by a different carver. One bird in the group has a tag stating "The Painted Bird, Carved Bird Decoys, Richard Morgan." A lovely decorative accent with which to decorate your beach, lake or riverfront home; all are in good condition. Could be a companion grouping to our other listing, #A-FIG1. DIMENSIONS: Tallest (white bird) = 14" high; widest (bird on far left) = 15.5" wide. ... Click for details
$250 for the group
Chinese Bamboo Opium Pipe, Early 19th C., Published
SAO31
DESCRIPTION: A large, non-damper opium pipe, consisting of a long bamboo tube terminating at one end with a bowl of brass and copper overlay acting as the saddle, socket and damper. A tapering brass tip finishes the other end. Around the bowl is a double flower design in copper and brass, and on each side is a decorative brass fish with scales. Attached along the bamboo stem are lengths of braded yarn, one of which terminates in a brass ring for hanging. Purchased from the collection of... Click for details
$660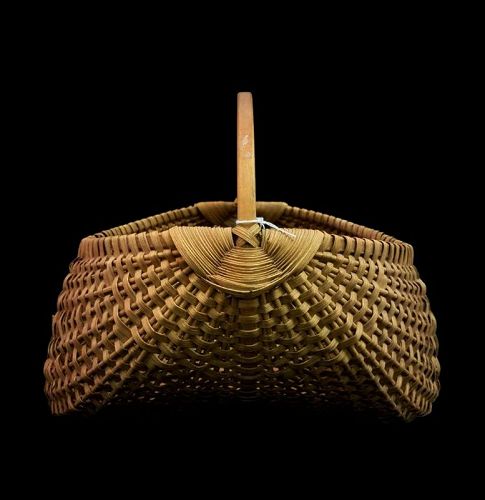 Antique Folk Art Split Oak Field Basket
A-BSK11
DESCRIPTION: Wonderful melon-shaped split oak basket with a sturdy bentwood handle which is oak-wrapped on both ends. This early 1900's basket is in great condition with no losses noted. DIMENSIONS: 15" long x 12.5" wide; height with handle is 11", w/o 8".
$560
3 Previous
1
7
12
17
21
22
23
24
25
31
37
43
50
Next 4