Japanese Scroll Painting of Bullock by Kano Eigaku, Edo Period
WD25
DESCRIPTION: A framed Japanese scroll painting of an ox in black ink on beige rice paper. A poem is inscribed in loose strokes at the top portion of the painting and is signed at the bottom by the artist, Kano Eigaku (1790 – 1867). Attractively framed with an archival silk mat in a faux black bamboo, the painting is in good condition and dates from the first half of the 19th C.
ABOUT THE ARTIST: Kano Eigaku was born in Kyoto and studied the Kano style under his father-in-law, Kano Eishun,... Click for details
$995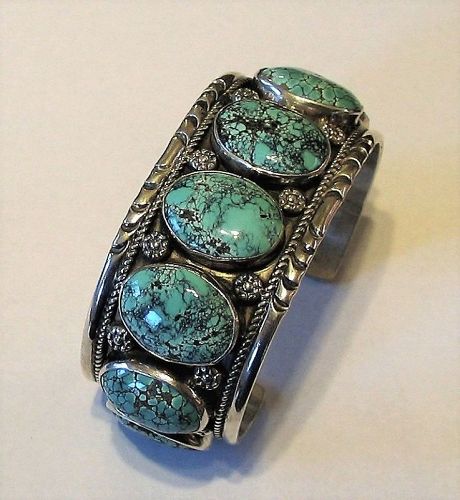 Excellent Sterling & Turquoise Navajo Cuff Bracelet, Signed LLS
W-JO3
DESCRIPTION: An impressive Native American, hand-crafted, sterling silver cuff bracelet with a wide band set with eight large turquoise stones, each having brown to black veining. Each stone is framed by four silver flower beads, all within a silver twisted wire border. Excellent condition, no chips to stones, very comfortable and beautiful on the wrist. DIMENSIONS: Inner circumference is 6.75" including wrist opening (adult medium size); 8 stones, each 3/4" x 5/8"; band is 1.25" wide;... Click for details
$885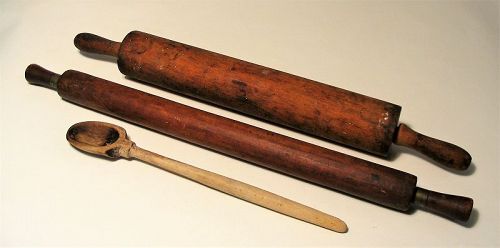 Early American Long Wooden Rolling Pins and Spoon
A-UTL4
DESCRIPTION: No country kitchen is complete without a few antique kitchen tools on display. Harkening back to homemade apple pies, here we have two long wooden rolling pins with handles plus a long wooden kitchen spoon to add to you display collection. All are in good, useable condition with normal wear from age and usage. DIMENSIONS: Longest rolling pin is 23.75", second is 22.75" long.
$50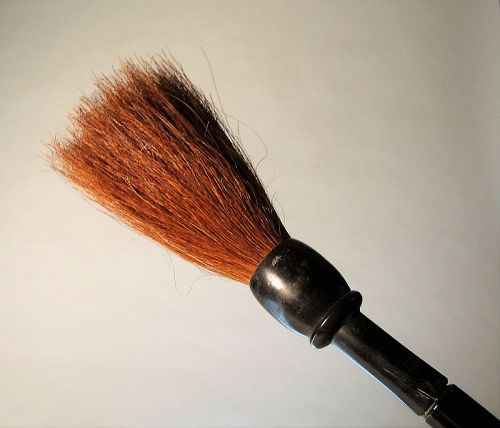 Antique Chinese Calligraphy Ox-Horn Brush
SCH154
DESCRIPTION: An attractive scholar's calligraphy brush, crafted using long brown horsehair bristles attached to a bulbous ox-horn ferrule and segmented, solid ox- horn shaft. A very handsome brush in good condition from the latter Qing Dynasty, which would have been used for calligraphy or painting. DIMENSIONS: 14" long (35.5 cm).
$325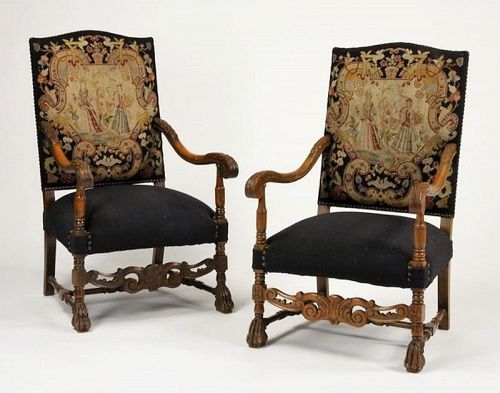 Pair Late 19th C. Carved Walnut French Needlepoint Armchairs
W-CH3
DESCRIPTION: A beautiful pair of late 19th century French carved walnut armchairs, with original gros point and petit point upholstery with nail head trim, the backrests with a central scrolling cartouche framing two maidens encircled with flowers. The seats and back are upholstered in dark blue/back fabric over a turned H-shaped stretcher base with a pierced, carved front stretcher, raised on animal paw feet. Very good condition, and the perfect complement to an Old World decor. DIMENSIONS:... Click for details
$4,850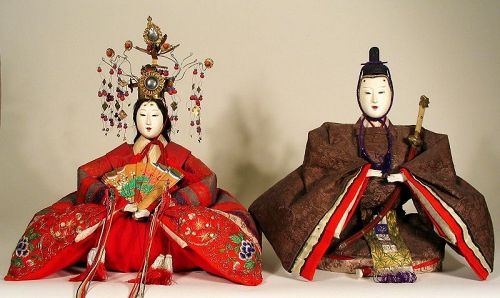 Antique Japanese Emperor and Empress Hina Dolls, Meiji
FIG61
DESCRIPTION: A pair of large Japanese Emperor and Empress dolls, or kokin-bina, presented in formal court dress. The empress' attire is quite elaborate, using fine brocade silks with hand embroidered flowers. In her hands she holds a painted fan and is crowned with an elaborate headdress representing a bird with long hanging beads attached. Both dolls have gofun faces and hands, which are in excellent condition. The accessories include the empress' crown and tasseled fan, and the emperor's... Click for details
$995
3 Previous
1
7
12
17
19
20
21
22
23
31
39
47
56
Next 4