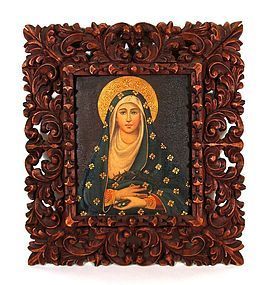 Cuzco School Painting of Virgin Mary in Ornate Frame, 19thC.
W-WD2
DESCRIPTION: A fine Spanish Colonial Cuzco School painting of the Virgin Mary, originating from Cusco, Peru. Here Mary is depicted with a golden halo looking straight at the viewer, wearing a royal blue robe with gold floral accents. In her hands she holds the crown of thorns and nails; however her image is not one of sorrow but of great peace and serenity. The painting is enclosed by its original, reverse-slant carved and pierced frame, very characteristic of the elaborate carvings made by... Click for details
$2,975.00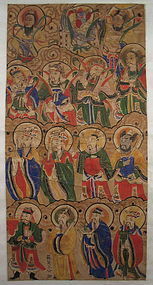 Chinese Scroll with Deities, 19th C. Qing Dy
WD45
DESCRIPTION: A Qing Dynasty Chinese scroll depicting a plethora of Chinese deities, each in colorful robes of blue, green, yellow and red, and each with an aurora around his head. The deities display different symbols or attributes that identify them to the knowledgeable follower. The artist's inscription can be found between the two lower left figures.
Chinese mythology has a rich, long history and is a collection of folktales, cultures and religions that have been passed down in... Click for details
$1,195.00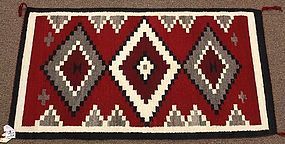 Navajo Eye Dazzler Rug
W-RG6
DESCRIPTION: A small Navajo rug made of handspun wool in an "Eye Dazzler" pattern of three vibrant, serrated diamonds on a bright red ground, enclosed with a double border of white and black. The Eye Dazzler, so named by early traders because of the intense coloring of the dyes, is a serrated design that was woven in multiple colors of bright aniline dyed yarns in the 1880 - 1890 period. Navajo Eye Dazzler weavings were influenced by the Mexican satillo weavings and the Germantown yarn... Click for details
$990.00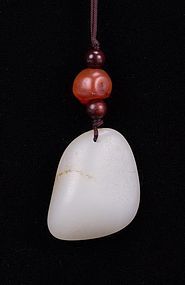 Chinese White Jade Toggle, Qing
JHS175
DESCRIPTION: A lovely white jade toggle (or pendant) with scattered light brown to grayish inclusions, strung with an orange amber bead on a cord. This toggle dates from the Qing Dynasty and is in very good condition; the jade surface is quite smooth to the touch and there are no chips to the jade or amber bead. DIMENSIONS: Jade toggle: 1 1/4" long (3.2 cm) x 1" wide (2.5 cm).
$695.00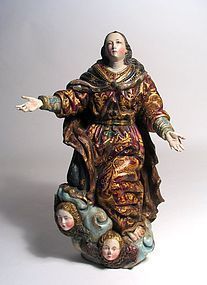 18th Century Spanish Colonial Santo, Virgin Mary
W-FIG6
DESCRIPTION: An exquisitely carved Spanish Colonial polychrome figure of the Virgin Mary as Queen of Heaven standing on a cloud-form base with attendant angels, arms outstretched, gazing reverently upward. Her face is delicately carved and particularly beautiful. Dressed in elaborate gilt robes with long flowing hair, this figure is remarkable from any angle; a rare and magnificent Santo. CONDITION: In unusually good condition considering its age; most from this period have severe losses to... Click for details
$4,150.00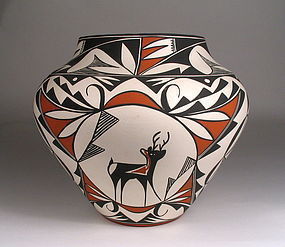 Acoma Pottery Olla with Deer, Signed Louise Amos
W-PT12
DESCRIPTION: A striking Acoma pottery olla with dramatic traditional graphics in white, black and orange. This greenware olla is skillfully painted in traditional designs including hatched (symbolizing rain), stepped (representing clouds) and curvilinear, with distinctive "heartline" deer figures and bold flowers. These designs speak of water, fertility, the life cycle, the earth and sky, and their interrelationships to each other. The concave bottom is signed, "Acoma Pueblo, New Mexico,... Click for details
$980.00
3 Previous
1
8
14
20
26
27
28
29
30
34
38
42
45
Next 4