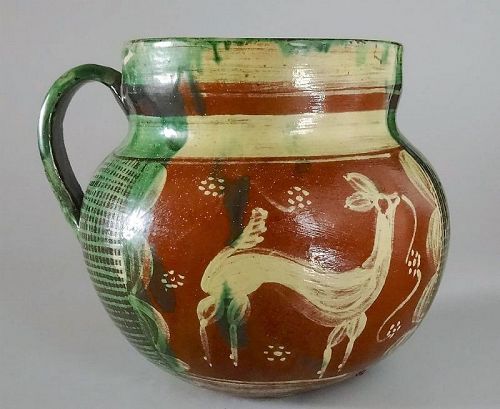 Fine Mexican Tlaquepaque / Tonala Pottery Pitcher, c 1920's
W-CP7
DESCRIPTION: A vintage terra cotta pitcher (or handled pot), skillfully hand-painted in green and white glazes with deer painted on each side using fluid brush strokes. Originating from the Tlaquepaque-Tonala area of Mexico, this delightful redware pitcher is in excellent condition; no chips or cracks. DIMENSIONS: Body is 6.25" x 5.5"; 5" high.
$195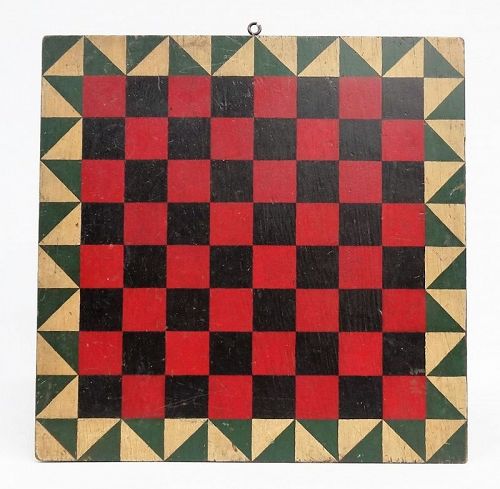 Polychrome Americana Game Board
A-FA3
DESCRIPTION: A colorful folk art game board of alternating red and black squares for playing checkers or chess, bordered by green and white triangles, giving an overall pleasing geometric effect. An eye hook has been mounted on one edge for hanging; very good condition, C. 1900's. DIMENSIONS: 17.5" square.
$955
Beautiful Pair Carved Hardwood Chinese Throne Chairs & Table, 20th C.
CH40
DESCRIPTION: A pair of Chinese rosewood throne chairs with pierced backs and graduated armrests of rectilinear openwork form imitating a bamboo motif, together with matching side table. The chairs and table have beautifully grained, solid floating-panel plank seats and table top which sit upon high pierced waists wrapping around all four sides. Traditional Chinese joinery throughout (no nails or glue); excellent condition, very sturdy. DIMENSIONS: 42.5" high x 27.5" wide x 21" deep.
$3,175 For all three pieces
Industrial Metal & Chrome Floor Lamp
A-MTL1
Here is a fabulous 1930's Art Deco industrial metal floor lamp, waiting to give your home or office that vintage look. These early electrical devices are so stylish now for the popular Industrial / Steampunk / Machine Age dΓ©cor. The entire upper section of the lamp is adjustable, and the head moves as well. In excellent original condition (works great) with beautiful chrome accents. DIMENSIONS: 64.5" tall x 14" wid
$950
Vintage Antler Handle Stainless Carving Set
W-MS35
This handsome stag horn handled carving set adds the perfect complement to your lodge, rustic or Southwestern kitchen decor. The set includes a large stainless steel roasting fork and carving knife, each with authentic antler handles capped with brass ends. Stamped on the knife's blade is "Royal Brand Cutlery Company, Stainless Steel, Sheffield England." DIMENSIONS: Knife is 14.5" long and fork is 10.5" long. Very good condition; normal wear from usage, minor rust spots on fork.
$125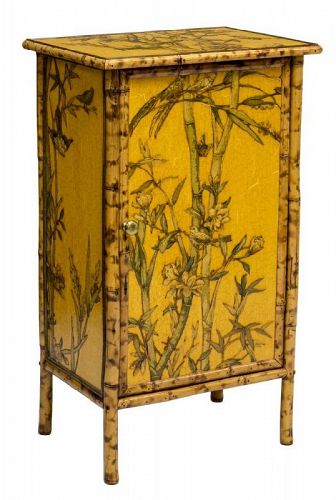 Vintage Yellow Chinese Bamboo Cabinet
CCM20
DESCRIPTION: A lovely Chinese bamboo-framed cabinet having painted scenes of bamboo and birds on a yellow ground. The rectangular top is mounted over a door that opens to an interior cabinet with three shelves. A delightful piece for the bedroom or country/cottage interior, 20th C. Good condition with minor wear. DIMENSIONS: 35.25" H x 20.5" W x 14.5" D.
$675
3 Previous
1
8
14
20
25
26
27
28
29
36
43
50
56
Next 4