Vintage Uzbek Suzani Embroidery
TXW1
DESCRIPTION: A vibrant Suzani coverlet, finely embroidered with silk threads on a cream-colored cotton ground. Suzani (a word meaning "needlework") is a type of embroidered tribal textile made in Uzbekistan, Kazakhstan and other Central Asian countries. These coverlets are traditionally made by Central Asian brides for their dowry and presented to the groom on the wedding day.
This vintage suzani was acquired in Turkey from an Uzbek family and displays traditional design motifs such as... Click for details
$1,200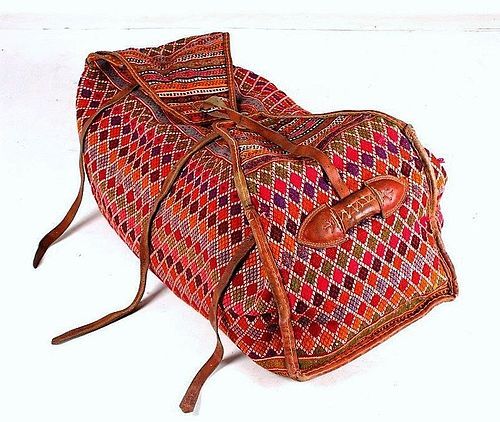 Antique, Hand Woven Turkish Dowry Bag
TX73
DESCRIPTION: A large, colorful Turkish dowry bag, hand woven from wool and bordered with leather straps and handles. The vibrant, multicolored geometric design covers all sides of the bag and the two top flaps. The bag is secured by three long leather straps with buckles that close the bag horizontally, and a leather strap and buckle that secure the two top flaps. Two substantial leather handles are attached to each end for carrying.
Bags like this one were often used to deliver the... Click for details
$1,075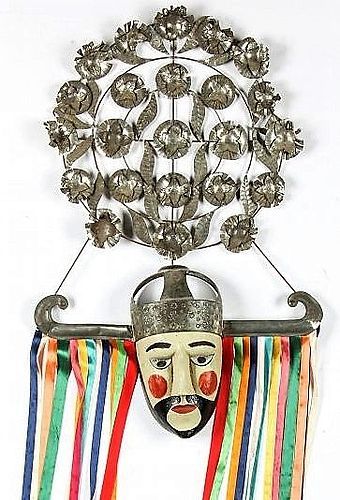 Vintage Mexican Vaquero Festival Dance Mask
W-FIG28
DESCRIPTION: An artful and flamboyant Mexican festival vaquero (cowboy / cattle driver) dance mask, the face carved from wood and painted with a black beard and bright red cheeks. Attached to the head is an elaborate tin "crown" with wide bull horns and flamboyant decorative headdress of double cut and pierced tin flowers. Embellishing the horns are rows of long, brightly colored ribbons. This mask would have been a festive, celebratory costume worn during the Dance of the Vaqueros,... Click for details
$1,295
Vintage, Heavy Wool Persian Horse Blanket / Trappings
TX74
DESCRIPTION: An extraordinary, thick and vibrantly colored horse saddle blanket, hand woven in Persia, and complete with original plaited rope fringe. Colorful geometric patterns form the ground of this tribal piece (probably Kurdish or Luri), separated by black and white key fret borders. This large textile would be stunning as a wall hanging, throw or rug. Please see the last photo showing how these trappings are actually worn on a horse. Pieces with similar characteristics can also be... Click for details
Sold SOLD
Antique Chinese Boxwood Fish Toggle, Qing
SN90
DESCRIPTION: A well carved and highly detailed Chinese boxwood toggle of a fish, a symbol in China of wealth and success, with fine scale detailing, a large head and the tail fin curved upward. The hole in the mouth serves as the point of attachment for the cord with the cord knot being concealed within the slit opening in the belly of the fish. Excellent condition; 19th C. DIMENSIONS: 2.75" long (7 cm).
ABOUT CHINESE TOGGLES: Chinese toggles (Guajian) are the precursors of the... Click for details
$760
Large, Square B & W Japanese Arita Imari Dish, Edo
CP136
DESCRIPTION: This large, boldly decorated early 19th century Japanese Arita sometsuke (blue and white) porcelain dish in square form ("kaku-zara") is hand painted in deep cobalt blue with a center floral design against thin parallel lines. This center ground is bordered by diaper designs around the raised rim with floral cartouches at each corner. Such a dish was used in Japanese tea ceremonies for serving raw fish or shellfish. The reverse is hand painted with stylized decorations in... Click for details
$360
3 Previous
1
8
14
20
25
26
27
28
29
36
43
50
56
Next 4