Three Carved Wooden Shore Bird Figures
A-FIG1
DESCRIPTION: A delightful set of three vintage hand-carved and painted shore bird figures on stands, each by a different carver. Perfect decorative accessories for a beach or river cottage; all are in good condition. DIMENSIONS: Tallest is 14"; widest (bird with long bill) is 18".
$190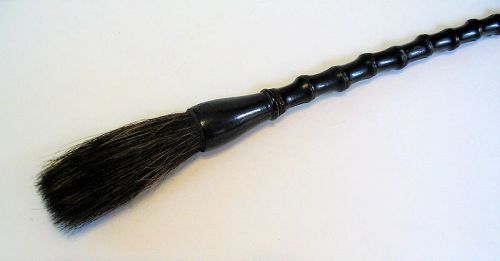 Fine Chinese Scholar's Bamboo Calligraphy Brush
SCH282
DESCRIPTION: A handsome scholar's calligraphy brush, crafted using a dark brown bamboo for the shaft which connects to a shaped horn ferrule and long, natural bristle brush. One of the "four treasures of the scholar's studio," this striking scholar's brush would have been used for calligraphy or painting. This attractive, well made brush dates from the early 20th C. DIMENSIONS: 13.25" long (33.5 cm).
$385
Vintage Geometric Navajo Rug
W-RG13
DESCRIPTION: A hand woven Native American rug in a traditional tumbling blocks pattern, a Navajo motif also found in Americana quilts. This attractive, double sided, flat weave wool rug uses natural dyes in red, black and tan to form the block designs. Very good condition, no holes or tears. DIMENSIONS: 55" x 35".
$1,250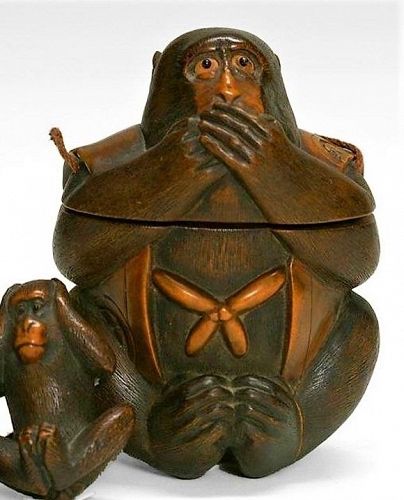 Exceptional Japanese Tonkotsu Sagemono, Three Wise Monkeys, Meji
SN97
DESCRIPTION: This outstanding and rare antique Japanese Tonkotsu, or tobacco box, has been crafted from boxwood in the form of the Three Wise Monkeys, with a beautifully carved Iwazaru, or "Speak no Evil" monkey, serving as the main tobacco container. Mizaru, or "See No Evil", forms the ojime and Kikazaru, or "Hear No Evil", forms the netsuke to complete the set. Each of these has been meticulously carved with inlaid eyes and finely delineated fur. The large monkey wears a... Click for details
$2,980
Fabulous Navajo Sterling Silver & Turquoise Belt Buckle, Gibson Nez
W-JO37
DESCRIPTION: An impressive, heavy-gauge sterling silver belt buckle with a beautiful bezel-set rectangular stone, crafted by Navajo artisan Gibson Nez (1947-2007). The large buckle is hand stamped with close parallel lines around an undulating border, like radiant energy drawing your eye to the gem-grade, Nevada Blue Turquoise stone which Gibson hand-picked to feature in the center. Extraordinary, c. 1981, excellent condition, with Nez's signature stamp on the back: "Sterling, GZN,... Click for details
$2,250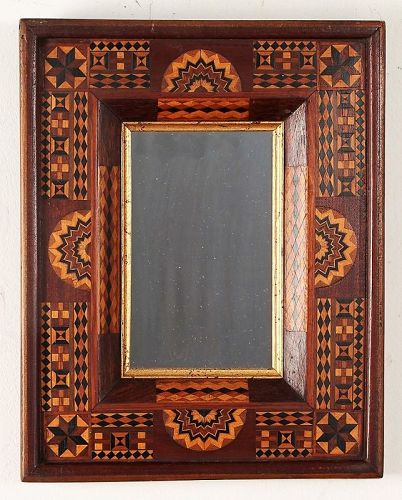 Antique Folk Art Mirror Frame with Elaborate Inlays
A-FA11
DESCRIPTION: A fine antique folk art frame with deeply set mirror, the frame intricately inlaid with multi-colored woods forming geometric designs including diamonds, stars, fans and other parquetry motifs. This is a wonderful folk art piece executed with obvious skill; narrow beaded inner frame is gold leaf. Excellent condition, no losses or cracks. Provenance: Clifford A. Wallach, Tramp Art, Folk & Americana. DIMENSIONS: 13 5/8" high x 11" wide.
$1,495
3 Previous
1
8
14
20
25
26
27
28
29
36
43
50
56
Next 4