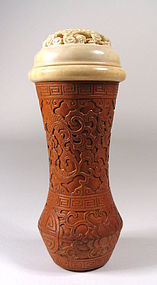 Fine Chinese Gourd & Ivory Cricket Box, Qing Dy
SAO18
DESCRIPTION: An exceptional gourd cricket box (or cage) with a fitted, intricately carved ivory cap. This finely molded box exemplifies the best of Chinese "gourd arts" with invisible seams, a complex design, and crisp impressions covering the body. Key-fret borders wrap around the shoulders, waist and foot with leafy floral designs between. The deeply pierced ivory lid is carved in the form of a dragon in the clouds with a flaming pearl. Rarely do we see a cricket box made with such... Click for details
$2,660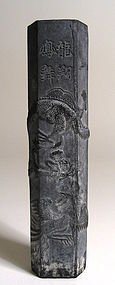 Antique Chinese Ink Stick
SCH71
DESCRIPTION: A long, six-sided Chinese ink stick with nicely detailed dragon and phoenix curling about the surface. Short, impressed Chinese inscriptions are found on two sides. One of the four treasures of the scholar's studio, ink sticks (or cakes) would be carefully ground by the scholar and mixed with water on an inkstone to paint calligraphy or scrolls with a brush. This black ink stick is in good antique condition. DIMENSIONS: 6 1/2" long (16.5 cm) x 1 1/4" diameter (3.2 cm).
$240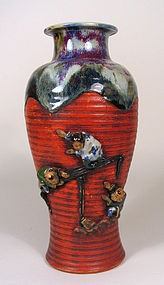 Large Japanese Sumida Gawa Vase
CP107
DESCRIPTION: A large Japanese Sumida vase with three children in high relief playing on a bridge against the red ribbed body. The neck rim is covered in a rich, thick flambé glaze that runs down the shoulders onto the traditional, cold painted body. This vase is in excellent condition with no chips and very little rubbing. DIMENSIONS: 11 1/2' high (29.2 cm) x 4 3/4" diameter (12 cm).
ABOUT SUMIDA EARTHENWARE POTTERY: This charming and highly collectable studio pottery originates from... Click for details
$1,240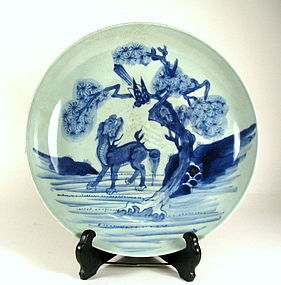 Large Blue & White Antique Chinese Plate, Qing
CP77
DESCRIPTION: A large antique porcelain plate, well decorated with a mythical Kylin gazing upward at a large bird perched in a pine tree. The decoration is in underglazed blue with a clear glaze containing a faint blue tint. The base is unglazed and unmarked showing the finely grained paste. Excellent condition, no chips, cracks or repairs; wood stand not included. DIMENSIONS: 11 1/4" diameter (28.5 cm) x 2 1/8" high (5.4 cm).
$475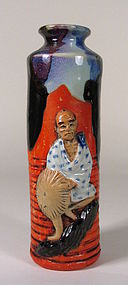 Tall Japanese Sumida Gawa Vase
CP100
DESCRIPTION: A Japanese Sumida vase with oval neck rim covered in a rich, thick flambé glaze running midway down the vase. A high relief figure of a man balanced on a rocky ledge, holding an umbrella, is contrasted against the red, ribbed body of the vase. Excellent condition with no chips. For size comparison with our other Sumida listings, numbers CP72 & CP99, see the last photo. DIMENSIONS: 8" high (20.3 cm) x 3" diameter (7.6 cm).
ABOUT SUMIDA EARTHENWARE POTTERY: This... Click for details
$640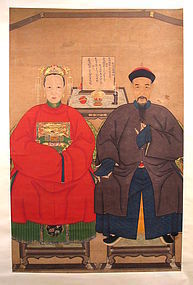 Large Chinese Ancestor Portrait, Scroll, Qing Dynasty
WD46
DESCRIPTION: Nearly life-sized and in the traditional frontal pose, this painting on rice paper depicts a Chinese Qing official (mandarin) and his wife seated on elaborately carved chairs in semiformal gowns. The woman's bright red robe has an embroidered insignia that proclaims the couple's rank and status. Her feet and hands are hidden and she wears an elaborate headdress of gold and pearls. Wearing an eggplant colored overcoat, the husband sits in his official hat while stroking his beard... Click for details
$2,200
3 Previous
1
9
16
23
30
37
44
45
46
47
48
49
50
Next 4