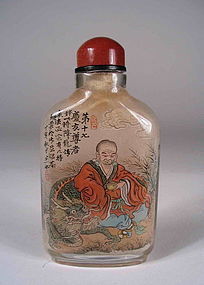 Fine Interior Painted Chinese Glass Snuff Bottle
SB117
DESCRIPTION: A finely painted Chinese glass snuff bottle in flattened rectangular form, each side featuring a lohan (a Buddhist disciple) in landscape settings, one with a crouching dragon and the other with a playful foo lion. Above each lohan is a poem in fine calligraphy with red seal marks. Aventurine stopper, in excellent condition, early 20th C. DIMENSIONS: 3 ¼" high (8.3 cm).
$750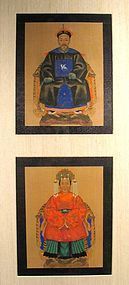 Pair of Miniature Chinese Ancestor Portraits, 19th C., Framed
WD29
DESCRIPTION: A pair of rare Qing Dynasty (early 1800's) ancestor portraits of miniature size, framed in an archival, off-white silk matt. Both figures are seated on horseshoe back chairs with tiger skin drapes, the husband in a bright blue robe with black silk overcoat, his rank badge displayed on his chest; the wife in a bright orange-red coat, teal colored skirt, and elaborate headdress. Both are well painted with detailed, lifelike features. Portraits of this size are very rare as most... Click for details
$1,660
Chinese White and Green Jade Cricket Box
JHS174
DESCRIPTION: A well carved cylindrical jade cricket box, the body carved and pierced from white jade in a leaf and flower pattern, with a dark cyan colored jade lid, pierced and carved in the same pattern. The box is raised on an ebony stand with three feet. Dating from the first half of the 20th C., this cricket box is in excellent condition. DIMENSIONS: 3 1/8" high (8 cm) x 2" diameter.
CULTURAL BACKGROUND: Keeping crickets is a tradition in China, with cricket boxes made in a... Click for details
$1,450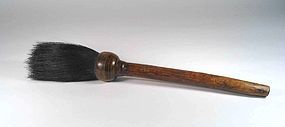 Large Antique Chinese Calligraphy Brush, 19th C.
SCH278
DESCRIPTION: A large wooden scholar's brush used to paint large calligraphy. Thick black bristles are gathered into a bulbous wood ferrule, turned from the same wood as the handle. The tip of the handle is pierced for hanging. A very nice old brush, good for display in large brush pots; 19th C., normal wear as would be expected. DIMENSIONS: 16" long (41 cm).
$195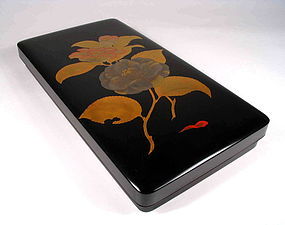 Complete Japanese Lacquer Suzuri-bako Writing Box, Meij
LC34
DESCRIPTION: A skillfully lacquered suzuri-bako (writing box) from the Meiji Period, early 1900's. The lid of the rectangular box is decorated with a takamakie floral design in gold, silver and shu (a hue of red-orange) lacquer on a black ro-iro ground. The interior of the lid and box are sprinkled in a nashiji cloud motif. This suzuri-bako is a complete set, fitted with the original water dropper and inkstone and its original kiri (paulownia) wood box with inscription. Excellent... Click for details
$2,495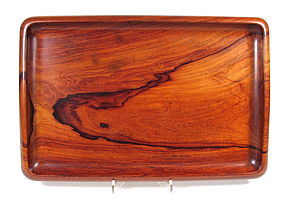 Fine Chinese Huanghuali Tray, Qing
BPB155
DESCRIPTION: An extraordinary Chinese tray, its rectangular form crafted from one slab of huanghuali wood that has been skillfully hollowed to expose the beautiful grain and form the graceful, curved edges. This elegant tray highlights the incredible beauty of this favored Chinese wood and virtually shimmers in the light. Excellent condition with a nice weight to it; from a private collection. DIMENSIONS: 13 1/2" wide (34.2 cm) x 9" deep (22.8 cm).
$3,495
3 Previous
1
2
3
4
5
6
Next 4