Antique Spanish Colonial Figure of Saint
W-FIG34
A large 19th C. Spanish Colonial carved wood santos figure of a bearded saint. The saint is draped in a long, polychrome robe with finely carved edge detailing and stands atop a stepped pedestal base. CONDITION: Very good. DIMENSIONS: 38 1/2" high (98 cm) x 15" wide (38 cm).
Sold SOLD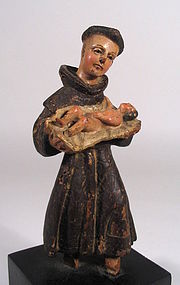 18th C. Spanish Colonial Santo, St. Anthony with Christ Child
W-FIG19
DESCRIPTION: An engaging Spanish Colonial carved santo figure depicting Saint Anthony holding the Christ Child. St. Anthony of Padua is perhaps one of the most loved and admired saints in the Catholic Church. Born in Portugal in 1195, he was a Portuguese Catholic priest and friar of the Franciscan Order who later did much of his work in Italy. Here St. Anthony is dressed in a brown friar's habit with head tilted to one side, gently holding the Christ Child in his arms. This figure, dating... Click for details
$780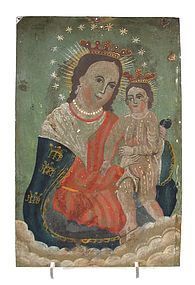 19th C. Mexican Retablo, Our Lady, Refuge of Sinners
W-WD10
DESCRIPTION: A 19th C. Mexican retablo painting on tin of the Virgin Mary wearing a golden crown and holding a crowned Christ Child who wears a transparent robe. A scarf is drawn across Mary's right shoulder and her dark blue cape is initialed with her ciphers in gold. In this touching scene, the Christ child rests his right hand on her arm and grips her right thumb with his left hand. While this rendition of "Refugio de Pecadores" (Our Lady, Refuge of Sinners) follows the traditional... Click for details
$480
Large 18th C. Peruvian Santo, Saint Martin De Porres
W-FIG18
DESCRIPTION: A large polychromed wood figure of Saint Martin De Porres, Peruvian, 18th C. Here he is depicted gazing upward toward heaven, arms outstretched, wearing his Dominican robe embroidered in gold with a long painted rosary dangling past his waist. His white undergarment is richly painted with flowers and gold leafy tendrils. Carved in full round, his head is set with glass eyes and he retains a good amount of the original paint. DIMENSIONS: 26 inches high (66 cm).
SAINT... Click for details
$5,600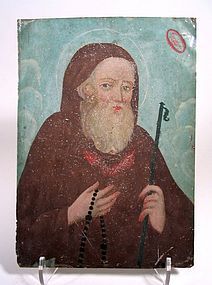 Antique Mexican Retablo, St. Francis of Paola
W-WD11
DESCRIPTION: A 19th C. Mexican retablo, beautifully painted on tin with the traditional depiction of San Francisco, the Catholic saint associated with charity. This is noted by the word "Caridad"(or charity) painted in red at the top right corner. A retablo in Mexican folk art is a devotional painting using iconography derived from traditional Roman Catholic church art. Retablos are often painted on rectangular sheets of tin illustrating holy images such as Christ, the Virgin Mother, or one... Click for details
$660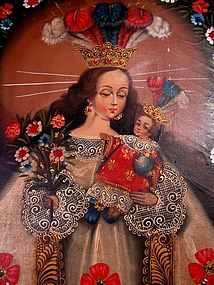 Cuzco School Painting, Our Lady of Pomata
W-WD4
DESCRIPTION: A large Cuzco School oil on canvas depicting "Our Lady of Pomata," who is said to protect the town of Pomata, Peru. Pomata is situated above Lake Titicaca in the highlands of Peru, and was once a popular Christian pilgrimage shrine. In this painting the Virgin is depicted as cradling the Christ Child in her left arm and holding a bouquet of flowers in her right hand. Both she and the child are adorned with bejeweled and feathered gold crowns and fine white lace which almost... Click for details
$4,250
3 Previous
1
2
3
4
Next 4