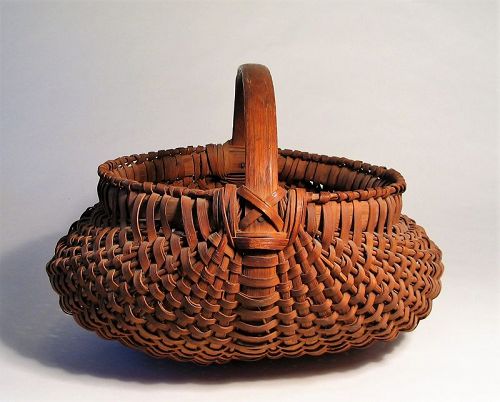 Large Antique Pennsylvania Oak Splint Field or Market Basket
A-BSK4
DESCRIPTION: A very good woven oak-splint basket in lobed buttocks form, used as a field gathering basket or a market basket for goods. This large, late 1800's to early 1900's Pennsylvania basket has a sturdy bentwood handle with bentwood-wrapped rims. CONDITION: Very good with minor age-appropriate usage wear and losses. DIMENSIONS: 20" wide x 14" high x 16.5" deep.
$730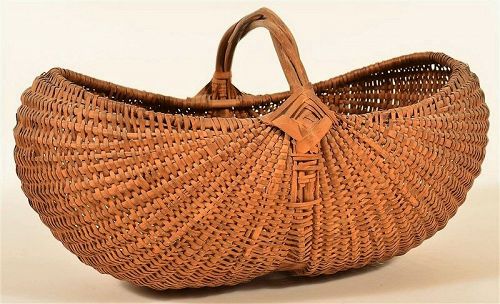 Antique Woven Oak Splint Gathering Basket
A-BSK2
DESCRIPTION: An antique American woven oak splint basket with twisted vine handle in elongated form for flower or herb gathering. You can never have too many great, old baskets! CONDITION: Good with minor age-appropriate wear, stains or losses. DIMENSIONS: 12" high x 21" wide.
$695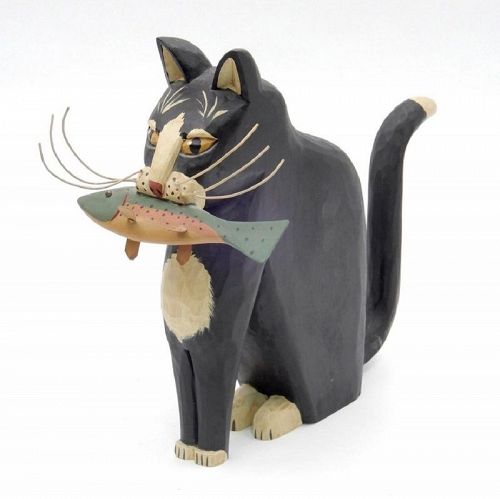 Folk Art Wood Carving of Cat with Fish, by G&G Hosfeld
A-FA10
DESCRIPTION: A charming folk art sculpture depicting a seated blue & white cat holding a fish in its mouth under its long, curved whiskers. By Pennsylvania contemporary folk artist and sculptor, G&G Hosfeld; artist signed and dated on bottom, "G&G Hosfeld, 1983, Souderton, PA." Excellent condition; a warm and whimsical accent piece for your farmhouse, country or lake cabin décor. DIMENSIONS: 8 1/4"wide x 11 7/8" high x 4 1/2" thick.
$475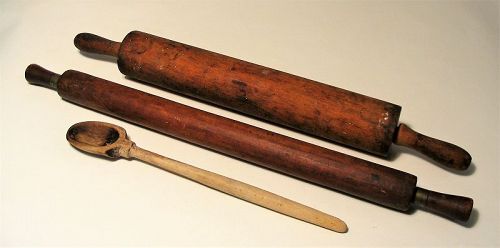 Early American Long Wooden Rolling Pins and Spoon
A-UTL4
DESCRIPTION: No country kitchen is complete without a few antique kitchen tools on display. Harkening back to homemade apple pies, here we have two long wooden rolling pins with handles plus a long wooden kitchen spoon to add to you display collection. All are in good, useable condition with normal wear from age and usage. DIMENSIONS: Longest rolling pin is 23.75", second is 22.75" long.
$50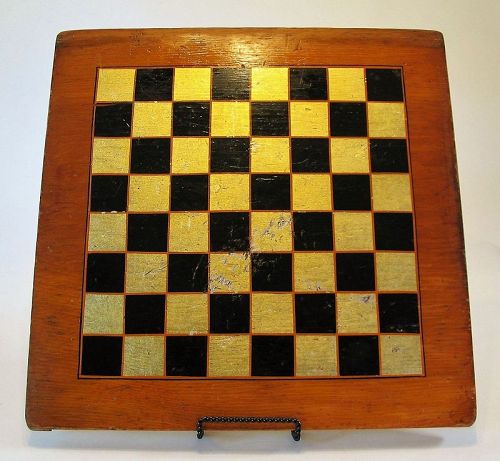 Vintage Wood Checkers Game Board
A-FA8
DESCRIPTION: A good country wood game board in original paint with alternating hand painted black and metallic silver/gold squares outlined in red pin stripes. Abrasions to area in center of board; sturdy construction. DIMENSIONS: 15.75" square x 7/8" thick.
$280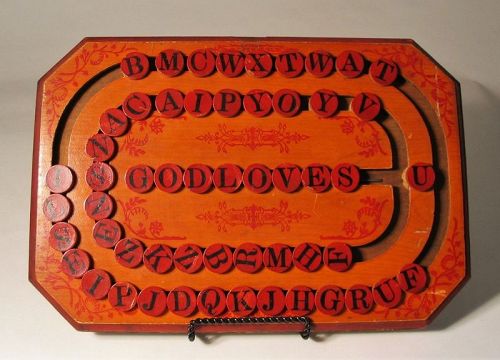 Antique Cress Educational Game Board, Early 20th C.
A-FA5
DESCRIPTION: This child's word learning game has spool type wood letters that slide around the two outer tracks in order to form words on the center track. An all wood board with beveled edges, this bright and cheery game has 1912 to 1916 patents. A great early educational piece for game collectors, this one is remarkable as there are neither missing letters nor breaks to the letters. Very good condition with normal usage wear. DIMENSIONS: 13.5" wide x 9.25" high.
$280
3 Previous
1
2
3
4
Next 4