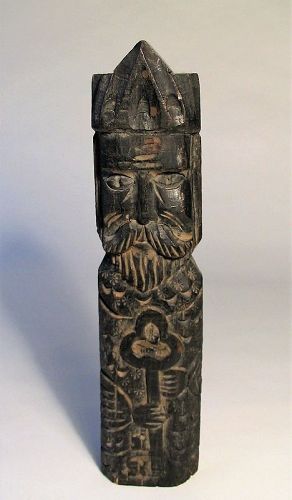 Carved Mexican Wood Santos Figure of St. Peter
W-FIG16
DESCRIPTION: An antique Mexican folk art carving of a bearded St. Peter in a bishop's hat holding a large key, symbolizing the key to the kingdom of heaven entrusted to disciple Simon Peter by Christ. This figure was probably part of a home devotional altar; figure can also be hung on a wall or entry door. Very good condition. DIMENSIONS: 13 1/8" high x 3"wide.
$225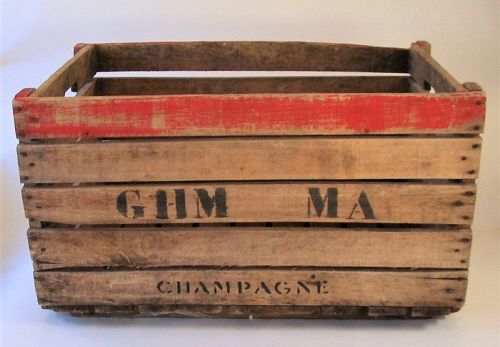 Wooden French Vineyard Champagne Crate
A-BSK10
DESCRIPTION: A sturdy wooden champagne grape box or crate used in French vineyards at harvest time. This one has touches of red paint, "GHM MA CHAMPAGNE" stenciled on both sides and handholds notched into the slats at the top. These boxes enhance a country provincial decorating style while functioning as split log holders for the fireplace or the perfect place to toss your wet or snowy boots in winter. DIMENSIONS: 15 ½" high x 27"wide x 19 1/2"deep.
$455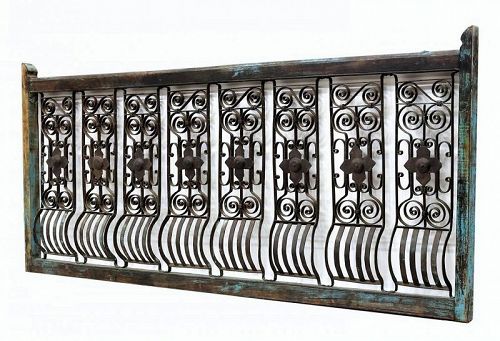 Dutch Colonial Hand-Forged Iron Architectural Terrace Railing
A-ARCH2
DESCRIPTION: A section of an antique Dutch Colonial architectural terrace railing, consisting of a sturdy wood frame with worn blue paint, enclosing eight hand-forged iron panels with large center medallions surrounded by iron scroll work, the lower rails bowed out making a lovely design. Would be a stunning decorative accent in the home, the garden, or if used as a striking king-sized headboard. DIMENSIONS: 82"wide x 38" high.
$2,895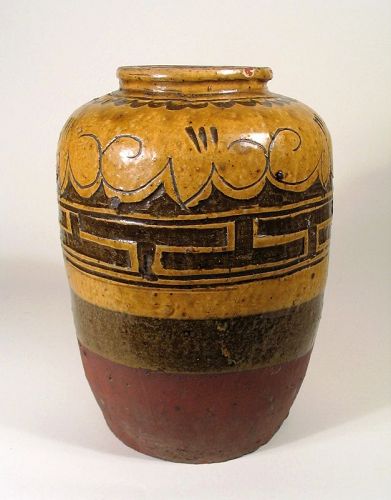 Handsome Chinese Red Clay Oil Jar, 19th C.
GD36
DESCRIPTION: Long acknowledged as masters of porcelain, the Chinese also excelled at pottery making. Qing Dynasty domestic pottery used regional clays and showed distinctive regional styles. This pottery, used for the storage of oil and other household goods, exhibited tremendous, quiet beauty as well as utility. Crafted of red clay and originating from Jiangxi Provence, this handsome jar is an excellent example with its incised geometric decorations in two-toned brown and yellow ochre glazes.... Click for details
$300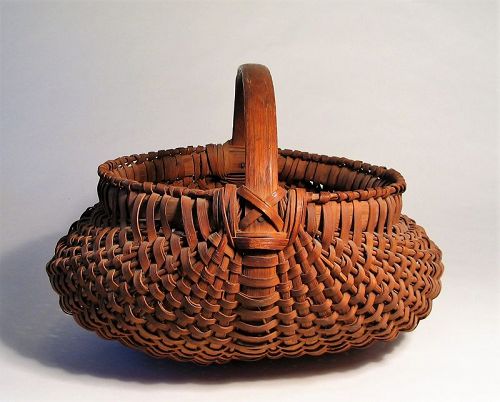 Large Antique Pennsylvania Oak Splint Field or Market Basket
A-BSK4
DESCRIPTION: A very good woven oak-splint basket in lobed buttocks form, used as a field gathering basket or a market basket for goods. This large, late 1800's to early 1900's Pennsylvania basket has a sturdy bentwood handle with bentwood-wrapped rims. CONDITION: Very good with minor age-appropriate usage wear and losses. DIMENSIONS: 20" wide x 14" high x 16.5" deep.
$730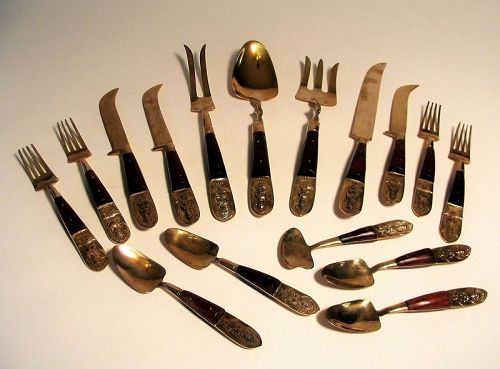 Vintage Thailand Brass & Wood Siam Flatware Set, Original Box
MS64
DESCRIPTION: A complete 29-piece flatware / cutlery set, made in Thailand during the late 1940s to early 1950s. Each utensil is shaped from solid brass and encased between rosewood slab handles, the tips of each with a raised brass figure in court dress and "Siam" stamped at the base. The set consists of dining or dessert cutlery for 8 people (knives, forks & spoons), plus a serving fork & spoon, sugar spoon, and a carving set. Original wood storage box with emerald velvet lining is... Click for details
$120 Set
3 Previous
1
2
5
8
11
12
13
14
15
23
31
39
46
Next 4