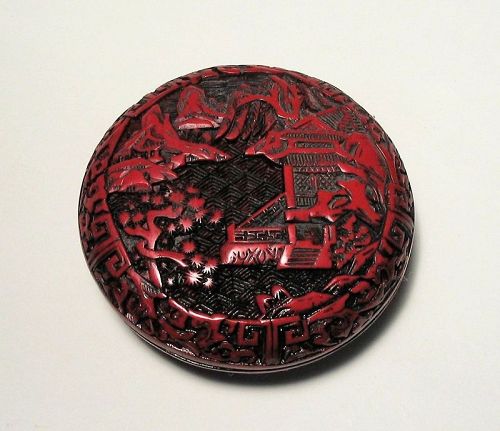 Chinese Cinnabar Seal Paste Box, Qing
SAO9
DESCRIPTION: A round, red cinnabar seal paste box, the top carved with a pavilion among pine trees with mountains in the background. Interior is black and box contains fresh seal paste we added for your Chinese seals and chops. Qing Dynasty, well carved, excellent condition. DIMENSIONS: 3" diameter (7.6 cm) x 1" thick (2.5 CM).
$215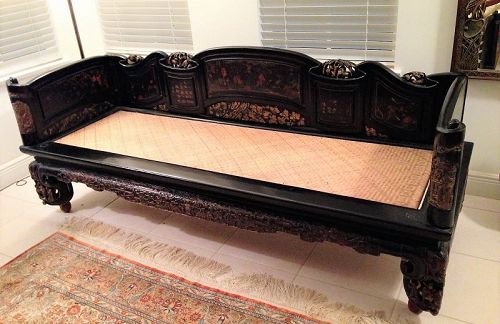 A Fine Chinese Lacquer and Carved Gilt-Wood Opium Bed, Qing, 19th C.
WLF-CH1
DESCRIPTION: A rare and beautiful Chinese daybed or opium bed (also referred to as a lady's couch bed, lohan, or "ta" bed), the black lacquered wood back and side panels shaped as an unfurled scroll with elaborate decorations including figural scenes, animals, flowers and birds, Chinese poetry and pierced gilt carvings. These surround a rectangular support frame topped with a woven mat seat. Below the seat an elaborately carved skirt stretches between thick, boldly carved legs.
This... Click for details
$3,900 Reduced Price!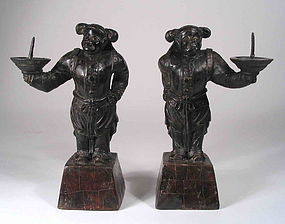 Pair Chinese Lacquer Figural Candle Pricks, 18th/19th C.
FIG88
DESCRIPTION: A captivating pair of lacquered figural candle pricks, each in the form of a smiling attendant with hand on hip, wearing a banded hat and holding aloft a candle dish. The figures themselves are hand crafted of solid brown lacquer around a wire frame, while the flared bases are wood blocks covered in brown lacquer. This unusual, rare pair date from approximately 1750 – 1850, and are in remarkable condition with the expected age wear to the lacquered surface. DIMENSIONS: Each... Click for details
$1,295 for the Pair
Burmese Red Lacquer Offering Vessel, Hsun-ok
LC55
DESCRIPTION: From our Southeast Asia Collection, a large and classic 19th century Burmese Hsun-ok constructed of wood that was first lacquered in black, and then covered in successive layers of cinnabar colored lacquer called hinthabada. Over time, through use and handling, the cinnabar lacquer has worn off in some areas to reveal the black lacquer base coat underneath, resulting in an attractive negoro effect. This particular vessel has graceful, stepped shoulders, a tall spire with large... Click for details
$880
Stunning, Large Japanese Lacquer Box, Late Meiji
LC51
DESCRIPTION: Dramatic in its bold yet simple design, this Japanese lacquer box makes a striking statement. The background of this large box is lacquered in a mirror-like, black ro-iro ground, with a vivid gold lacquer design on the lid of bamboo superimposed over a ginko leaf, all within a gold circle. The box is supported on four curved feet, and the interiors are brilliantly lacquered in orange-red. This box is in excellent condition, with very minor "bumps" to the outer lid, and the... Click for details
$1,495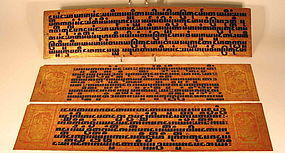 Three Burmese Buddhist Kammawasa Manuscripts, 19th C
LC47
DESCRIPTION: Four beautifully detailed, red and gold lacquered sheets of Burmese Buddhist manuscripts describing rules of ceremony. Kammawasa are elaborately decorated manuscripts extracted from the Pali Vinaya pitaka, the monastic code of discipline which is generally read aloud at monastic assemblies. Topics covered would include formalities for the ordination of monks and the bestowal of their robes, the consecration of an ordination hall, celebrating the festival of the full moon, and other... Click for details
$495 for all three
1
2
3
Next 4