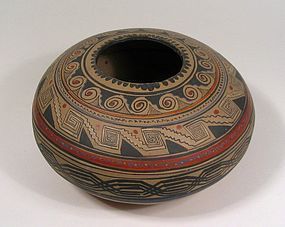 Vintage Southwestern Pottery Seed Bowl
W-PT1
DESCRIPTION: An intricately painted Native American pottery seed pot or bowl, dating from the early to mid 20th C. (1930 - 1950). This ovoid pot is painted in concentric circular bands of geometric designs separated by red stripes on a taupe colored ground. On the bottom is written "#22 Vase Navajo Ariz," along with other collectors' identification marks and numbering systems. Very good condition, minor scuffs and pockmarks; no chips, cracks or restorations. DIMENSIONS: 5" high (12.7 cm) x 9... Click for details
$295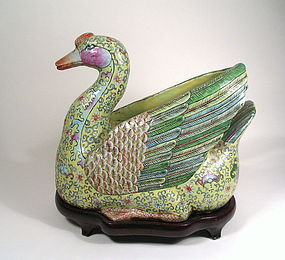 Large, Rare Chinese Export Famille Rose Goose, Qing
PTF61
DESCRIPTION: This large and impressive Chinese porcelain goose, painted in a famille rose pallet, is seated on folded legs with upturned tail and rests on a raised, fitted wood stand. Modeled with a slightly turned head and erect wings that touch at the tips, the body is enameled in a yellow ground with a pink bat and green scrolling vine motif, the lightly molded and naturalistically marked feathers in shades of blue and green. Unmarked base but judged to be late Qianlong to Jiaqing Periods... Click for details
$4,975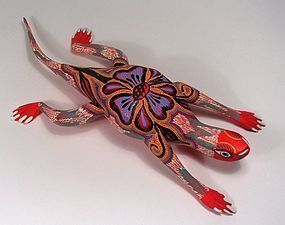 Oaxacan Folk Art Alebrije Lizard by Sergio & Hugo Santiago
W-FIG5
DESCRIPTION: Oaxacan woodcarvings, also known as alebrijes, have been a tradition for generations in several small villages outside the capital of Oaxaca, Mexico. It has only been in the past 40 years that these beautifully carved and painted figures have become popular, and are now collected worldwide. Using rudimentary tools, these Mexican artists create fascinating figures out of fresh-cut copal wood. After drying and sanding, the carvings are meticulously painted with intricate patterns and... Click for details
$180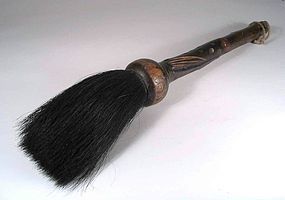 Large Wooden Chinese Calligraphy Brush, 19th C.
SCH279
DESCRIPTION: A large Qing Dynasty artist's calligraphy brush fashioned from wood and carved in a naturalistic design. The long black bristles are attached to a bulbous ferrule with the handle carved in a design reminiscent of bamboo leaves. This is a substantial, sturdy brush that shows usage wear and minor splitting on the handle. DIMENSIONS: 17 ¼" long (43.8 cm).
$195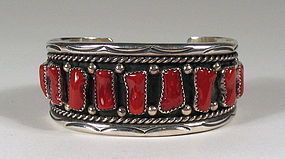 Navajo Sterling Silver and Coral Cuff Bracelet
W-JO17
DESCRIPTION: A beautifully crafted Navajo sterling and natural coral cuff bracelet . This bracelet features thirteen natural, dark red coral stones mounted on a 1 1/8" wide silver cuff between a scrolling border of stamp work, twisted wire, and silver beads. This cuff looks beautiful on the wrist; the inside is stamped "STERLING." See the last photo showing this bracelet with other pieces from our Native American jewelry collection. DIMENSIONS: 6 1/2" circumference (16.5 cm); medium adult... Click for details
$795
Large Chinese Generational Ancestor Portrait, Qing
WD44
DESCRIPTION: A large, boldly colored Chinese ancestor portrait featuring seven generations of mandarins and their wives. Such paintings were commissioned by descendants, and this one is executed in classic ancestral portrait style with the unsmiling subjects facing directly forward and seated on chairs with rounded backs, the men with hands and shoes showing and the women with their robes completely covering hands and feet.
A mandarin was a highly educated civil official who had passed a... Click for details
$1,850
3 Previous
1
10
18
26
31
32
33
34
35
38
41
44
46
Next 4