Complete Ensemble of Chinese Silver, Coral and Turquoise Jewelry
JO65
DESCRIPTION: It's extremely rare to find a complete suite of matching antique Chinese jewelry; it's even more rare to find them in their original box. This beautiful set consists of a matching silver filigree bracelet, a pair of earrings, a pin and a ring, all having natural turquoise and coral stones set between delicate scrolling silver wire work. The inside lid of the box is stamped, "The Old Friend, 18 Brass Street, Peiping." Dating from the 1920's, the whole suite is in excellent... Click for details
$2,150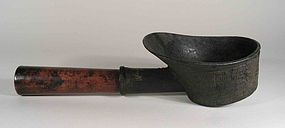 Chinese Cast Iron Clothes Press, 19th C.
MS195
DESCRIPTION: Before the availability of electricity and modern irons, this simple but useful implement was produced to iron clothes. The long wood handle is attached to a large cast iron bowl designed to hold hot coals. The bowl has been cast with designs on its outer surface and is shaped with one side flared to protect the worker's hand. After the bowl absorbed sufficient heat from the coals, it was pressed onto the garment using the flat bottom surface to smooth out wrinkles. Dating... Click for details
$135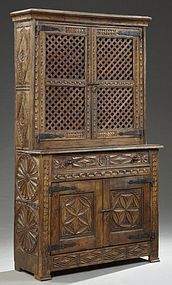 Fine Spanish Carved Oak Buffet or Hutch, Early 19th C.
W-CBL1
DESCRIPTION: A Spanish carved oak buffet a deux corps (buffet or hutch with the top cabinet having a shallower depth than the bottom), 19th C. The carved cavetto molding crowns double lattice work cupboard doors with hand forged iron hinges which open to reveal two interior shelves. These are set on a base with a frieze drawer over double cupboard doors, also with iron hinges, each carved with a six point flower set within a circle. Flanking the doors are beautifully carved sunburst side... Click for details
$6,995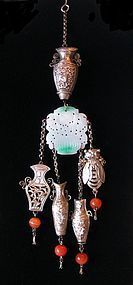 Exceptional Chinese Silver and Jade Needle Case, Qing
JO67
DESCRIPTION: Silver needle cases first appeared in China in the 1700's. Elaborate embroidery has a long tradition in China, and young girls began intensive training in needlework skills by age seven. Given the importance of embroidery in her life, a silver needle case was often presented to a girl as part of her dowry.
This particular case is an extraordinary example. Most silver needle cases held only one container for needles, while this elaborate case has a total of five large... Click for details
$1,495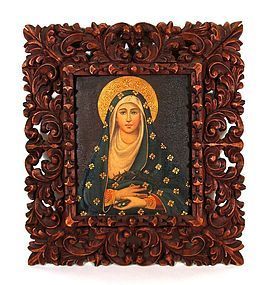 Cuzco School Painting of Virgin Mary in Ornate Frame, 19thC.
W-WD2
DESCRIPTION: A fine Spanish Colonial Cuzco School painting of the Virgin Mary, originating from Cusco, Peru. Here Mary is depicted with a golden halo looking straight at the viewer, wearing a royal blue robe with gold floral accents. In her hands she holds the crown of thorns and nails; however her image is not one of sorrow but of great peace and serenity. The painting is enclosed by its original, reverse-slant carved and pierced frame, very characteristic of the elaborate carvings made by... Click for details
$2,975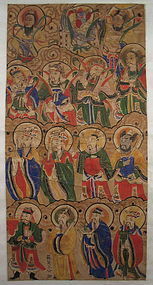 Chinese Scroll with Deities, 19th C. Qing Dy
WD45
DESCRIPTION: A Qing Dynasty Chinese scroll depicting a plethora of Chinese deities, each in colorful robes of blue, green, yellow and red, and each with an aurora around his head. The deities display different symbols or attributes that identify them to the knowledgeable follower. The artist's inscription can be found between the two lower left figures.
Chinese mythology has a rich, long history and is a collection of folktales, cultures and religions that have been passed down in... Click for details
$1,195
3 Previous
1
8
14
20
26
27
28
29
30
34
38
42
46
Next 4