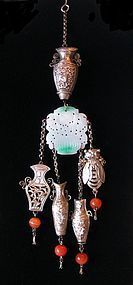 Exceptional Chinese Silver and Jade Needle Case, Qing
JO67
DESCRIPTION: Silver needle cases first appeared in China in the 1700's. Elaborate embroidery has a long tradition in China, and young girls began intensive training in needlework skills by age seven. Given the importance of embroidery in her life, a silver needle case was often presented to a girl as part of her dowry.
This particular case is an extraordinary example. Most silver needle cases held only one container for needles, while this elaborate case has a total of five large... Click for details
$1,495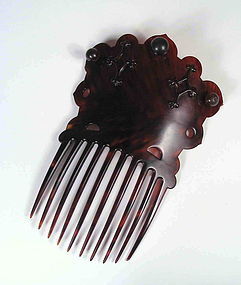 Chinese Export Tortoise Shell Comb, 19th C.
SAO206
DESCRIPTION: A large, ten pronged tortoise shell comb made for the European market (Victorian era, circa 1880-1890). The fashion of the day included large elaborate combs placed in upswept hair, and this one is a real beauty! The curved prongs and scalloped crown are from a single piece of shell which is mounted with three large round beads and two carved triangular designs. Very good condition with only a couple of tiny nits that are difficult to even see. DIMENSIONS: 6 ½" long (16.5... Click for details
$465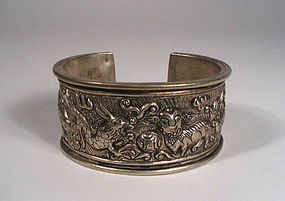 Chinese Silver Repousse Tribal Bracelet
JO39
DESCRIPTION: A charming and well executed Chinese silver tribal bracelet, the wide band framed with parallel lines between which various mythical and humorous animals cavort. Included in the hand crafted repousse processional are donkeys, fish, and a dragon vying with a foo dog for a brocade ball. This tribal bracelet comes to us from one of the mountainous Miao groups, who are well known for their beautiful silver work. Estimated to date from the first half of the 20th century and in very good... Click for details
$325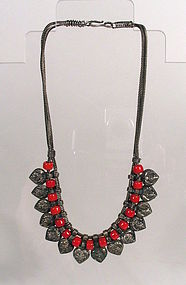 Minority Tribe Silver and Bead Necklace, Early 20th C.
JO5
DESCRIPTION: A Chinese Hill Tribe necklace, handmade of alternating coral colored beads and silver repousse lappets, strung on two lengths of woven silver chain with hook clasp. A very attractive short necklace dating from the early to mid 20th Century. In very good condition and a nice example of ethnographic Chinese tribal jewelry. DIMENSIONS: 9" drop when clasped; lappets are 1" long each.
$190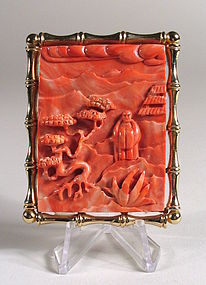 Chinese Carved Pink Coral Brooch / Pendant
JO61
DESCRIPTION: A Chinese pendant with coral colored stone mounted as a brooch in high relief with a scholar standing under a twisting pine in a mountain setting. The rectangular gilt frame is cast as four bamboo stalks and has a sturdy open "mesh" backing fitted with a stick pin and gold loop so that it can be worn as a brooch or necklace. Very fine work overall with no tarnish anywhere to the gilt frame. DIMENSIONS: 2 3/8" long (6 cm) x 1 7/8" wide (4.8 cm).
$595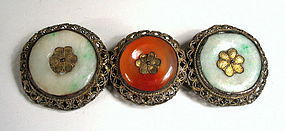 Antique Chinese Jade and Carnelian Filigree Pin, Qing
JO53
DESCRIPTION: A Chinese export filigree bar pin fashioned from three hardstone discs, two of jade and one carnelian, mounted in delicate, decorative openwork made from thin twisted wire. Most likely dating to the Victorian era (1837 – 1901) when such pins were fashionably worn at the neck fastening two collars, the pin is in very good condition with no chips to the stones and slight wear to the wirework. DIMENSIONS: 3 ¾" long (9.5 cm) x 1 3/8" wide (3.5 cm).
$295
3 Previous
1
2
3
Next 4