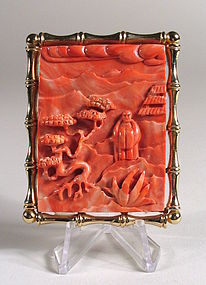 Chinese Carved Pink Coral Brooch / Pendant
JO61
DESCRIPTION: A Chinese pendant with coral colored stone mounted as a brooch in high relief with a scholar standing under a twisting pine in a mountain setting. The rectangular gilt frame is cast as four bamboo stalks and has a sturdy open "mesh" backing fitted with a stick pin and gold loop so that it can be worn as a brooch or necklace. Very fine work overall with no tarnish anywhere to the gilt frame. DIMENSIONS: 2 3/8" long (6 cm) x 1 7/8" wide (4.8 cm).
$595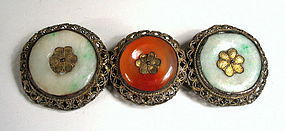 Antique Chinese Jade and Carnelian Filigree Pin, Qing
JO53
DESCRIPTION: A Chinese export filigree bar pin fashioned from three hardstone discs, two of jade and one carnelian, mounted in delicate, decorative openwork made from thin twisted wire. Most likely dating to the Victorian era (1837 – 1901) when such pins were fashionably worn at the neck fastening two collars, the pin is in very good condition with no chips to the stones and slight wear to the wirework. DIMENSIONS: 3 ¾" long (9.5 cm) x 1 3/8" wide (3.5 cm).
$295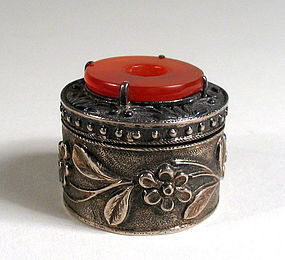 Small Silver & Carnelian Chinese Export Pill Box
JO57
DESCRIPTION: An attractive, round Chinese silver export pill box, banded with repossee' floral designs, the hinged lid crowned with a carnelian disc. On the base is stamped, "MADE IN CHINA NO 28 SILVER." Dating from the early 20th C., this little antique box is in excellent condition. DIMENSIONS: 1 1/8" diameter (2.8 cm) x 1" high (2.5 cm).
$195
Antique Chinese Export Silver Jewel Box, Early 20th C.
JO59
DESCRIPTION: A pretty little repossee' silver Chinese export box on short paw-feet legs with a large pink quartz carving inset into the top, carved in the form of a peach and a pomegranate. The inside has been gold washed and the base bears a stamp "Made in China, Silver." The perfect size for holding a favorite ring or earrings, the box is in good condition with wear to the white overlay on the horizontal band; first quarter of the 20th C. DIMENSIONS: 2" long (5 cm) x 1 ¼" high... Click for details
$280
Small Antique Chinese Brass Box with Carved Carnelian
JO55
DESCRIPTION: An attractive oval brass box, the hinged lid decorated with a carved carnelian stone at the center with raised brass leaves on either side. Signed at the interior lid, such a box might have been used for snuff, opium, cosmetics or medicines. This attractive little box is in excellent condition and dates from the first quarter of the 20th C. DIMENSIONS: 2 ¼" long (5.7 cm) x 1 1/8" wide (2.9 cm) x 1" high (2.5 cm).
$295
Large Chinese Porcelain Charger, Republic Period
CP82
DESCRIPTION: A large, multi-colored Chinese famille rose charger with scalloped edges which curve upward to form a deep dish. A profusion of flowers in segmented panels decorate the rim, with the scalloped edge painted in cobalt blue. The center scene shows two birds in a garden setting with a profusion of flowers and butterflies in raised enamels against a white ground. Very colorful and in perfect condition, this porcelain charger is from a Florida collection and dates to the first half of... Click for details
$395
3 Previous
1
8
14
20
26
32
38
44
50
56
57
58
59
Next 4