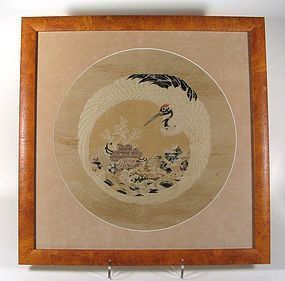 Framed Japanese Silk Brocade Fukusa with Crane
TX45
DESCRIPTION: A Japanese fukusa of brocade silk in a supplementary weft weave with both silk and gold metallic threads forming the design of a large crane with wings encircling various sea treasures. Used a gift cover and traditionally draped over a gift given for birthdays or New Years, the choice of an appropriate fukusa suited to the occasion was an important part of the gift-giving ritual. This one has been matted and set in a handsome burl frame. C.1920; wear to threads in a few areas. ... Click for details
$485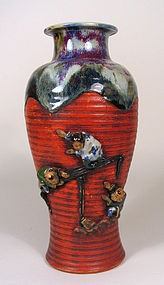 Large Japanese Sumida Gawa Vase
CP107
DESCRIPTION: A large Japanese Sumida vase with three children in high relief playing on a bridge against the red ribbed body. The neck rim is covered in a rich, thick flambé glaze that runs down the shoulders onto the traditional, cold painted body. This vase is in excellent condition with no chips and very little rubbing. DIMENSIONS: 11 1/2' high (29.2 cm) x 4 3/4" diameter (12 cm).
ABOUT SUMIDA EARTHENWARE POTTERY: This charming and highly collectable studio pottery originates from... Click for details
$1,240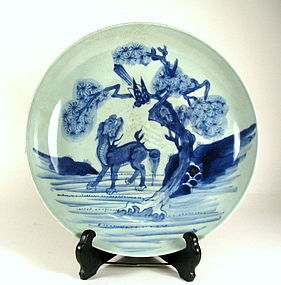 Large Blue & White Antique Chinese Plate, Qing
CP77
DESCRIPTION: A large antique porcelain plate, well decorated with a mythical Kylin gazing upward at a large bird perched in a pine tree. The decoration is in underglazed blue with a clear glaze containing a faint blue tint. The base is unglazed and unmarked showing the finely grained paste. Excellent condition, no chips, cracks or repairs; wood stand not included. DIMENSIONS: 11 1/4" diameter (28.5 cm) x 2 1/8" high (5.4 cm).
$475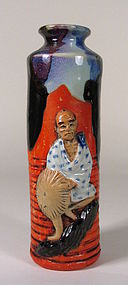 Tall Japanese Sumida Gawa Vase
CP100
DESCRIPTION: A Japanese Sumida vase with oval neck rim covered in a rich, thick flambé glaze running midway down the vase. A high relief figure of a man balanced on a rocky ledge, holding an umbrella, is contrasted against the red, ribbed body of the vase. Excellent condition with no chips. For size comparison with our other Sumida listings, numbers CP72 & CP99, see the last photo. DIMENSIONS: 8" high (20.3 cm) x 3" diameter (7.6 cm).
ABOUT SUMIDA EARTHENWARE POTTERY: This... Click for details
$640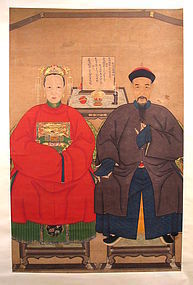 Large Chinese Ancestor Portrait, Scroll, Qing Dynasty
WD46
DESCRIPTION: Nearly life-sized and in the traditional frontal pose, this painting on rice paper depicts a Chinese Qing official (mandarin) and his wife seated on elaborately carved chairs in semiformal gowns. The woman's bright red robe has an embroidered insignia that proclaims the couple's rank and status. Her feet and hands are hidden and she wears an elaborate headdress of gold and pearls. Wearing an eggplant colored overcoat, the husband sits in his official hat while stroking his beard... Click for details
$2,200
Large Han Dynasty Pottery Cocoon Jar
PTA44
DESCRIPTION: A fine Han Dynasty cocoon jar (206 BC-220 AD) distinguished by its cold-painted colors of red, white, pink and lavender on a dark clay body. The distinctively plump, ovoid form of this jar, imitating the shape of a silkworm cocoon, has a good covering of the original paint remaining on the body. Characteristic swirling cloud and scroll designs decorate the surface in a flourish. Attached to the body is a wheel-turned neck and foot. This jar is in very good, "as excavated"... Click for details
$1,495
3 Previous
1
11
20
29
38
47
53
54
55
56
57
58
59
Next 4