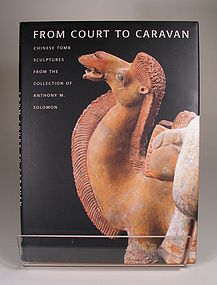 BOOK: "From Court to Caravan, Chinese Tomb Sculptures"
BK13
DESCRIPTION: During the Chinese Han (206 B.C.- A.D. 220) and Tang (A.D. 618-907) dynasties, earthenware sculptures were placed in elaborate tombs to protect and serve the spirits of the deceased. These fascinating sculptures took the forms of animals, soldiers, courtiers, musicians, merchants, and attendants. "From Court to Caravan, Chinese Tomb Sculptures from the Collection of Anthony M. Solomon" features seventy-three exquisite Chinese tomb sculptures from the Solomon collection, which... Click for details
$45
Ornate Pair Antique Wrought Iron Arched Panels
W-ARCH38
DESCRIPTION: An ornate pair of antique hand wrought and polychromed iron panels (could be window guards) from a New Orleans estate. The workmanship on this pair is exquisite with a three dimensional quality to the leafy vines and flowers. Both sides are equally crafted with double leaves and flowers so that there is no true front or back to each arched form. These could also be made into entry gates with very little alteration.
Dating from the late 19th C. and in excellent condition with... Click for details
$4,950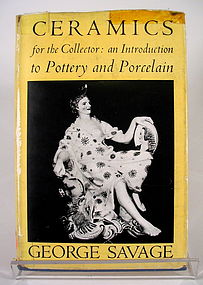 Book: "Ceramics for the Collector" by George Savage
BK10
DESCRIPTION: "Ceramics for the Collector: an Introduction to Pottery and Porcelain" by George Savage is an original standard for the new ceramic collector, giving a broad overview of ceramics through the ages and throughout the world, with Chinese ceramics constituting the heaviest treatment. Currently out of print; originally published by Rockliff, London, (1955) 3rd printing, 64 B&W plates, 224 pp; hardcover, in very good used condition; dust jacket scuffed with some tape applied to... Click for details
$35
Chinese Jade Mask Pendant or Toggle
JO33
DESCRIPTION: A Chinese celadon jade pendant, both sides well carved in the form of an archaic mask and strung on a black nylon cord with a round celadon jade bead. Such amulets have a long history in China and would have been worn as a mystical protector against all unseen evil and bad luck. This handsome jade pendant is quite wearable and in excellent condition. DIMENSIONS: 2 ¼" long (5.7 cm).
$350
3 Previous
1
7
12
17
22
27
32
37
42
47
52
53
54