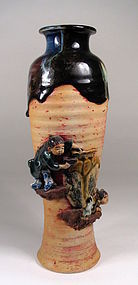 Tall Sumida Gawa Vase, Meiji
CP102
DESCRIPTION: A tall Japanese Sumida Gawa (Sumida River) vase featuring two hand molded children in high relief. The rim and neck of the vase are covered in a rich, dark flambé glaze that runs down the shoulders onto the ribbed body. Each of the children are perched on a ledge above and below a large, flat vase. The child at the top puts something in, while at the bottom of their vase we see a crack where water pours out. Signed "Ryosai" on small blue & white cartouche; excellent condition... Click for details
$1,150
Chinese Scholar's Bamboo Calligraphy Brush
SCH46
DESCRIPTION: This Chinese scholar's brush is a simple brush crafted from a mottled bamboo handle, very thick bristles, and a shaped, dark horn ferrule. The brush, dating from the early 20th Century, is in very good condition and would be perfect for display in a medium to smaller sized brush pot. DIMENSIONS: 9 5/8" long (24.5 cm).
$45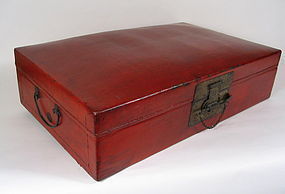 Chinese Leather Document Chest
BPB45
DESCRIPTION: A handsome rectangular Chinese chest crafted from a deep red ox leather and furnished with brass fittings. The interior still has the original blue silk lining and would have originally held scrolls or documents. Today it would make an attractive accent piece on top or underneath a cabinet or table. Good condition with some scuffing on edges; blue silk interior has some stains and small holes. This chest originated from Zhejiang Province and dates from 1920-1940. DIMENSIONS: ... Click for details
$460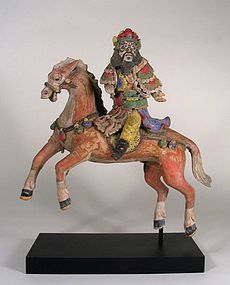 Rare Mongolian Warrior Wall Tile, Yuan Dynasty
PTA20
DESCRIPTION: During the Ming and Qing Dynasties, glazed sculptural tiles became a popular decorative devise used extensively in temples, altars, imperial palaces and gardens, and are considered one of the hallmarks of classical Chinese architecture. On temples and palaces, representations of mounted warriors and snarling dragons were meant to ward off evildoers of both the physical and spiritual kind.
More rarely seen are wall tiles earlier than Ming, so we are pleased to offer this one... Click for details
$2,200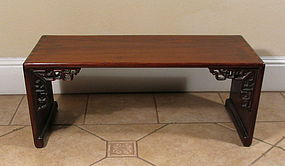 Chinese Rosewood Kang Table, 18th or 19th C.
TBS36
DESCRIPTION: A fine rosewood (perhaps huanghuali) Chinese kang table dating from the 18th/19th century. The two solid sides that form the legs are joined to the top with dovetail joints and carved (not appliquéd) with a pair of bats symbolizing good fortune, and the Chinese character for "luck." KANG TABLES: In the colder regions of China, a hollow platform known as a 'kang' was built into the main living room. Made of clay or brick, the kang would be heated from underneath and used as a... Click for details
$2,995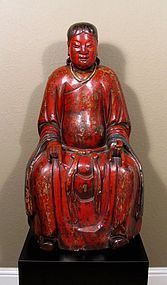 Important 16th C. Chinese Lacquered Wood Taoism Deity
FIG51
DESCRIPTION: A large, museum quality, carved and lacquered Chinese sculpture of the Taoism deity Hsuan Tien Shang-ti, dating from the Ming Dynasty, c. 1500's. The Supreme Emperor of the Dark Heavens, Hsuan Tien Shang-ti is known by numerous titles within China; he is best known to foreigners and laymen as the Northern Emperor, Pei Ti (Cantonese Pak Tai) or Chen Wu.
Here he is carved in a seated posture, draped in a red lacquered robe with blue trim, his hands resting on his knees with... Click for details
Sold Sold, Thank you
3 Previous
1
13
24
35
46
47
48
49
50
51
52
53
54
Next 4