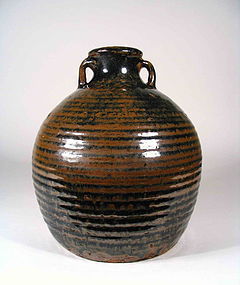 Chinese Jin Dynasty Brown & Black Glazed Stoneware Pot
CP194
DESCRIPTION: A Jin Dynasty (1115-1234 AD) pot / container decorated with a luscious, thick black and brown glaze over a bulbous, ribbed body. Two strap handles are attached to both sides of the short neck below the flared rim. Overall very good condition with small repair to rim. DIMENSIONS: 9 ½" high (24 cm) x 8 1/2" diameter (21.5 cm).
$995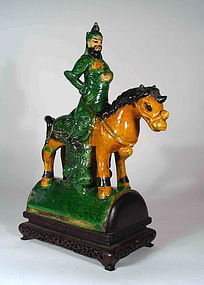 Large Ming Dynasty Roof Tile with Carved Stand
PTF142
DESCRIPTION: A beautifully mounted Chinese roof tile of a Ming warrior seated upon a horse. The bearded soldier, his right hand on his hip, sits erect upon his amber horse which stands on the curved tile base. This earthenware tile has been decorated in a sancai glaze of predominately green and amber colors. A beautifully carved custom rosewood base has been made for this large tile, the base itself probably being over 100 years old. CONDITION: Quite good condition with the usual wear one... Click for details
$2,450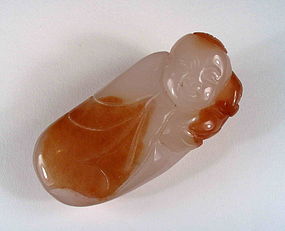 Chinese Carved Agate Rubbing Stone / Toggle
JHS107
DESCRIPTION: A simply carved agate rubbing stone in the form of a Chinese boy carrying a ruyi. The semi-precious stone is pure white with brown inclusions that have been incorporated into the design as the boy's cloak, hat and ruyi, which he carries on his shoulder. A small hole has been drilled through the ruyi at the back of the head for stringing and wearing from the belt as a toggle. Stones such as these were meant to held, rubbed and fondled, with this one fitting perfectly into the palm... Click for details
$345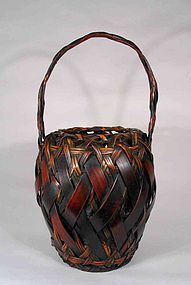 Antique Split Bamboo Japanese Ikebana Basket
BSK71
DESCRIPTION: A fine smoked bamboo ikebana basket woven in a tall ovoid form with entwined bamboo handle. The basket is crafted with a vertical diagonal weave from both wide and narrow splints in contrasting colors. This sturdy and handsome basket has a beautiful aged patina with no losses detected; early 20th century. DIMENSIONS: 18 ½" high x 8 ¾" diameter.
$495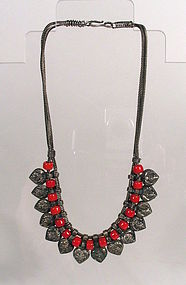 Minority Tribe Silver and Bead Necklace, Early 20th C.
JO5
DESCRIPTION: A Chinese Hill Tribe necklace, handmade of alternating coral colored beads and silver repousse lappets, strung on two lengths of woven silver chain with hook clasp. A very attractive short necklace dating from the early to mid 20th Century. In very good condition and a nice example of ethnographic Chinese tribal jewelry. DIMENSIONS: 9" drop when clasped; lappets are 1" long each.
$190
Large Vintage Native American Chimayo Wool Blanket
W-TX3
DESCRIPTION: A large, vibrant Churro wool blanket from the weaving center of Chimayo in Northern New Mexico. This finely woven blanket is of the "Rio Grande" style with alternating bands of white and navy stripes running across a bright red ground. These bands are each separated by a line of three stars with twelve points. CONDITION: This reversible blanket is in excellent condition with no repairs, holes or stains; the fibers are thick and the colors vibrant.
CULTURAL BACKGROUND: ... Click for details
$375
3 Previous
1
13
24
35
43
44
45
46
47
49
51
53
55
Next 4