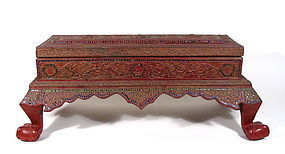 Superb Burmese Lacquer Manuscript Box, 19th C.
TBS16
DESCRIPTION: In Burma (now called Myanmar), one of the most honored and beautifully decorated ceremonial pieces was the box that held the many gold lacquered sheets of Buddhist manuscripts, called the Kammawasa. These sheets are read aloud at monastic assemblies, and topics covered could include formalities for the ordination of monks and the bestowal of their robes, the consecration of an ordination hall, celebrating the festival of the full moon, or other such instructions. (Please see our... Click for details
$1,295.00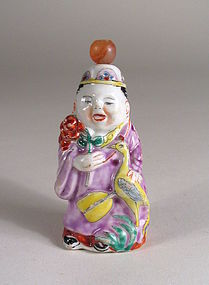 Antique Chinese Porcelain Figural Snuff Bottle
SB134
DESCRIPTION: An appealing Chinese porcelain snuff bottle in the form of a young boy in purple robes. He holds a flower in one hand and the other is resting upon a yellow peacock with fan. A bead on his cap forms the stopper. Very good condition with mionor rubbing to the enamel; no spoon. DIMENSIONS: 3" high (7.6 cm).
$450.00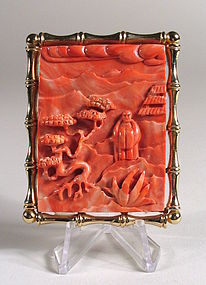 Chinese Carved Pink Coral Brooch / Pendant
JO61
DESCRIPTION: A Chinese pendant with coral colored stone mounted as a brooch in high relief with a scholar standing under a twisting pine in a mountain setting. The rectangular gilt frame is cast as four bamboo stalks and has a sturdy open "mesh" backing fitted with a stick pin and gold loop so that it can be worn as a brooch or necklace. Very fine work overall with no tarnish anywhere to the gilt frame. DIMENSIONS: 2 3/8" long (6 cm) x 1 7/8" wide (4.8 cm).
$595.00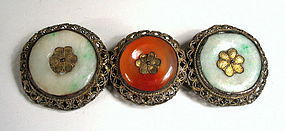 Antique Chinese Jade and Carnelian Filigree Pin, Qing
JO53
DESCRIPTION: A Chinese export filigree bar pin fashioned from three hardstone discs, two of jade and one carnelian, mounted in delicate, decorative openwork made from thin twisted wire. Most likely dating to the Victorian era (1837 – 1901) when such pins were fashionably worn at the neck fastening two collars, the pin is in very good condition with no chips to the stones and slight wear to the wirework. DIMENSIONS: 3 ¾" long (9.5 cm) x 1 3/8" wide (3.5 cm).
$295.00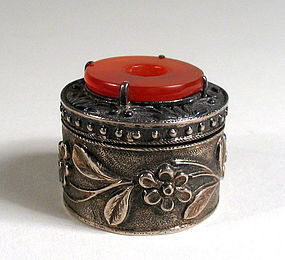 Small Silver & Carnelian Chinese Export Pill Box
JO57
DESCRIPTION: An attractive, round Chinese silver export pill box, banded with repossee' floral designs, the hinged lid crowned with a carnelian disc. On the base is stamped, "MADE IN CHINA NO 28 SILVER." Dating from the early 20th C., this little antique box is in excellent condition. DIMENSIONS: 1 1/8" diameter (2.8 cm) x 1" high (2.5 cm).
$195.00
Antique Chinese Export Silver Jewel Box, Early 20th C.
JO59
DESCRIPTION: A pretty little repossee' silver Chinese export box on short paw-feet legs with a large pink quartz carving inset into the top, carved in the form of a peach and a pomegranate. The inside has been gold washed and the base bears a stamp "Made in China, Silver." The perfect size for holding a favorite ring or earrings, the box is in good condition with wear to the white overlay on the horizontal band; first quarter of the 20th C. DIMENSIONS: 2" long (5 cm) x 1 ¼" high... Click for details
$280.00
3 Previous
1
2
7
12
17
22
27
32
37
42
43
44
45
Next 4