Chinese White and Green Jade Cricket Box
JHS174
DESCRIPTION: A well carved cylindrical jade cricket box, the body carved and pierced from white jade in a leaf and flower pattern, with a dark cyan colored jade lid, pierced and carved in the same pattern. The box is raised on an ebony stand with three feet. Dating from the first half of the 20th C., this cricket box is in excellent condition. DIMENSIONS: 3 1/8" high (8 cm) x 2" diameter.
CULTURAL BACKGROUND: Keeping crickets is a tradition in China, with cricket boxes made in a... Click for details
$1,450
Antique Okinawa Snakeskin Lute, or Sanshin
MS56
DESCRIPTION: A rare and quite old Japanese lute, or sanshin, originating from the island of Okinawa. The sanshin (literally meaning "three strings") is an Okinawan musical instrument, and the precursor of the Japanese shamisen. Often likened to a banjo, it consisted of a snakeskin-covered body, neck and three strings, and was known for its calming tune. This sanshin, dating from the late 18th C. to early 19th C, Edo Period, has a rounded wooden body covered with the original snakeskin on both... Click for details
$1,295
Stunning, Large Japanese Lacquer Box, Late Meiji
LC51
DESCRIPTION: Dramatic in its bold yet simple design, this Japanese lacquer box makes a striking statement. The background of this large box is lacquered in a mirror-like, black ro-iro ground, with a vivid gold lacquer design on the lid of bamboo superimposed over a ginko leaf, all within a gold circle. The box is supported on four curved feet, and the interiors are brilliantly lacquered in orange-red. This box is in excellent condition, with very minor "bumps" to the outer lid, and the... Click for details
$1,495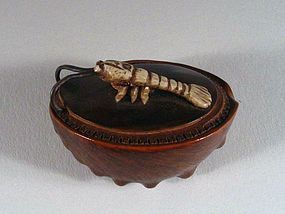 Lobster on Abalone Shell Netsuke, Signed
SN84
DESCRIPTION: An unusual netsuke featuring an abalone shell crafted from wavy burl wood with an ivory lobster perched on top. The lobster's curled antennas are made of metal, and on the underside of the shell a signature is etched into the wood. Early to mid 20th century in very good condition. DIMENSIONS: 1 ¾" long (4.5 cm).
$395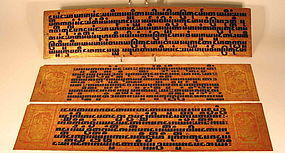 Three Burmese Buddhist Kammawasa Manuscripts, 19th C
LC47
DESCRIPTION: Four beautifully detailed, red and gold lacquered sheets of Burmese Buddhist manuscripts describing rules of ceremony. Kammawasa are elaborately decorated manuscripts extracted from the Pali Vinaya pitaka, the monastic code of discipline which is generally read aloud at monastic assemblies. Topics covered would include formalities for the ordination of monks and the bestowal of their robes, the consecration of an ordination hall, celebrating the festival of the full moon, and other... Click for details
$495 for all three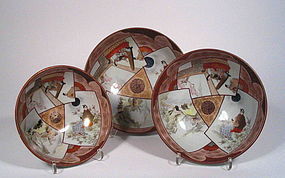 Set of Three Nesting Kutani Porcelain Bowls
CP121
DESCRIPTION: A lovely graduated set of Japanese Kutani porcelain bowls, each delicately hand painted with three overlapping rectangular cartouches which reveal landscape, garden and interior scenes, highlighted with raised gilt decoration. Each bowl is signed on the base, Kutani Sei. The mark and style of this set dates it to the end of Meiji period (1868-1912), from around 1910-20. All bowls are in excellent condition, no chips or restorations.
DIMENSIONS: All three bowls nest neatly. ... Click for details
$895 for all three
3 Previous
1
12
22
32
41
42
43
44
45
47
49
51
54
Next 4