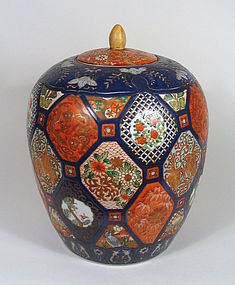 Large Chinese Imari Lidded Jar
CP45
DESCRIPTION: A large and colorful Chinese fencai Imari lidded jar, the body decorated with diamond shaped, hand painted panels in raised enamels with designs of flowers, dragons, bamboo, birds and pine, separated by dark blue borders. The shoulder and foot are bordered in dark blue with white designs, while the knobbed lid is enameled with white flowers on an orange ground. The base is marked with a "Ya Wan Zhen Cang" red seal, dating it to the mid 20th C. A very decorative, focal point jar in... Click for details
$875.00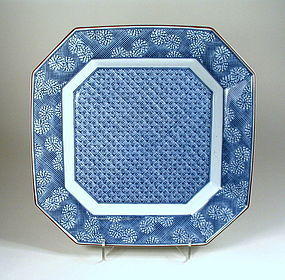 Square Japanese Blue and White Porcelain Platter
CP134
DESCRIPTION: This vintage eight-sided Japanese platter is raised on a square foot with blue underglazed geometric designs covering the flat interior and with chrysanthemums scattered over diagonal cross hatching around the raised edges. Perfect condition with no chips, cracks or repairs, and dating to the first half of the 1900's; maker's mark and collector's stickers are on the back. DIMENSIONS: 10 ¾" square (27.4 cm) x 1 5/8" high (4.1 cm).
$260.00
Classic Chinese Antique Elm Bed, 19th C.
TBL33
DESCRIPTION: A very handsome antique Chinese Yu mu (Northern Chinese Elm) bed with carved center apron and stout, inward turning horse-hoof feet. The rectangular top of this bed is inset with rattan, supported by strong woven webbing underneath. Yu mu, or Northern Elm, has an elaborate and beautiful wave-like grain and is favored for Northern Chinese furniture.
This sturdy bed dates from the early 1800's and is in remarkable condition with no cracks. All the rattan and under-webbing in... Click for details
$3,950.00
Fine Engraved Ivory Scholar's Brush, Qing
SCH214
DESCRIPTION: One of the four treasures of the scholar's studio, this rare scholar's brush is crafted from ivory (not bone) and engraved with a maiden in a garden setting as well as a poem in tiny characters. The shaft is banded with silver foil and attaches to the ferrule and tip which are crafted from horn. Qing Dynasty, very good condition with a few hairlines but no open fractures. DIMENSIONS: 12 ½" long (31.7 cm).
$1,160.00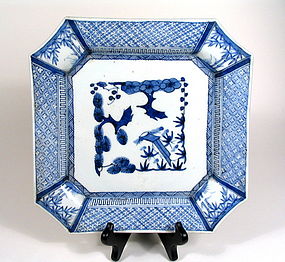 Japanese Blue & White Arita Dish / Plate
CP135
DESCRIPTION: A square porcelain dish by Arita, hand painted in the blue and white "Three Friends of Winter" motif. The "Three Friends of Winter" was a popular Japanese theme where pine, prunus and bamboo are grouped, said to represent perseverance, longevity and vitality, despite adversity. The raised and flared edges have repeating geometric patterns and bamboo plants are found in each corner. The plate rests on a round raised foot with blue designs on the undersides. Produced in the... Click for details
$395.00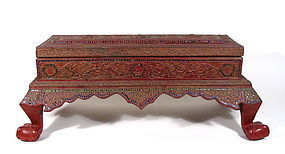 Superb Burmese Lacquer Manuscript Box, 19th C.
TBS16
DESCRIPTION: In Burma (now called Myanmar), one of the most honored and beautifully decorated ceremonial pieces was the box that held the many gold lacquered sheets of Buddhist manuscripts, called the Kammawasa. These sheets are read aloud at monastic assemblies, and topics covered could include formalities for the ordination of monks and the bestowal of their robes, the consecration of an ordination hall, celebrating the festival of the full moon, or other such instructions. (Please see our... Click for details
$1,295.00
3 Previous
1
2
7
12
17
22
27
32
37
41
42
43
44
Next 4