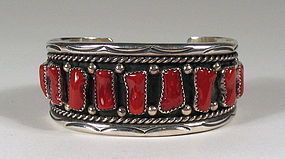 Navajo Sterling Silver and Coral Cuff Bracelet
W-JO17
DESCRIPTION: A beautifully crafted Navajo sterling and natural coral cuff bracelet . This bracelet features thirteen natural, dark red coral stones mounted on a 1 1/8" wide silver cuff between a scrolling border of stamp work, twisted wire, and silver beads. This cuff looks beautiful on the wrist; the inside is stamped "STERLING." See the last photo showing this bracelet with other pieces from our Native American jewelry collection. DIMENSIONS: 6 1/2" circumference (16.5 cm); medium adult... Click for details
$795
Large Chinese Generational Ancestor Portrait, Qing
WD44
DESCRIPTION: A large, boldly colored Chinese ancestor portrait featuring seven generations of mandarins and their wives. Such paintings were commissioned by descendants, and this one is executed in classic ancestral portrait style with the unsmiling subjects facing directly forward and seated on chairs with rounded backs, the men with hands and shoes showing and the women with their robes completely covering hands and feet.
A mandarin was a highly educated civil official who had passed a... Click for details
$1,850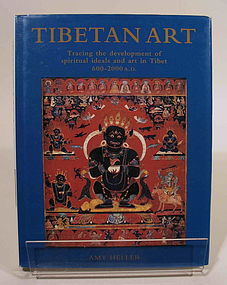 "Tibetan Art" by Amy Heller
BK6
DESCRIPTION: "Tibetan Art: Tracing the Development of Spiritual Ideals and Art in Tibet, 600 – 2000 AD" is a treasure trove of the creativity Tibet has harbored over the centuries. Amy Heller places Tibetan art into an historical and social setting, and has richly illustrated this work with over 120 color and 147 black and white photographs. Heller shows how the aesthetics of Buddhism, monasteries, Dali Lamas, renowned artists and outside influences, together with the country's... Click for details
$55
Colorful, Vintage Hand Woven Peruvian Wool Rug
W-RG9
DESCRIPTION: A delightful hand-woven, flat weave llama wool rug made by native tribes from the Andes of Peru. This long runner is divided into three distinct patterns, the large outer border with colorful Inca figures in ceremonial headdresses, a middle border of fanciful fish which alternate facing left and right, and a center panel with a multitude of animals and insects including a llama, cat, butterfly, spider, swan, frog and duck. This vibrant, flat-weave rug is completely reversible and... Click for details
$360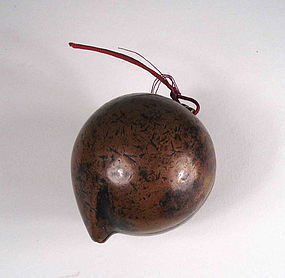 Antique Chinese Copper Peach Box Toggle, 18th C.
SN109
DESCRIPTION: An unusual and quite old (18th C.) copper box toggle in the form of a peach, the Chinese symbol of longevity. Probably used as both a toggle and tobacco container, the two halves have a tightly fitting overlapping seal, with two loops forming the hinge at the stem point. This large solid copper toggle has a rich, aged patina and is in fine condition with minor signs of wear, as to be expected. DIMENSIONS: Approximately 2 1/4" long, tip to tip (5.7 cm) x 1 ¾" diameter (4.5 cm).... Click for details
$495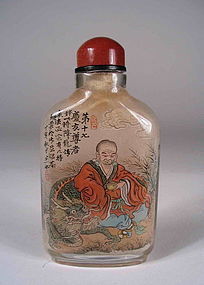 Fine Interior Painted Chinese Glass Snuff Bottle
SB117
DESCRIPTION: A finely painted Chinese glass snuff bottle in flattened rectangular form, each side featuring a lohan (a Buddhist disciple) in landscape settings, one with a crouching dragon and the other with a playful foo lion. Above each lohan is a poem in fine calligraphy with red seal marks. Aventurine stopper, in excellent condition, early 20th C. DIMENSIONS: 3 ¼" high (8.3 cm).
$750
3 Previous
1
12
22
32
40
41
42
43
44
47
50
53
56
Next 4