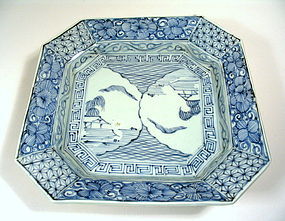 Chinese Blue & White Square Porcelain Plate, Qing
CP137
DESCRIPTION: A Chinese eight-sided footed plate with raised base and blue under-glazed decorations featuring two pavilions by the water (each reversed so the plate can be viewed upright from two directions), surrounded by key-fret and floral borders. Collector's stickers on back indicate the number of the piece and the date the USA collector originally purchased it (April 14 of 1977). Excellent condition with no chips, cracks or repairs; small original firing flaws. DIMENSIONS: 9 7/8"... Click for details
$795
Fine Chinese Scholar's Lacquer Calligraphy Brush
SCH158
DESCRIPTION: A handsome scholar's calligraphy brush, crafted from a wood shaft that has been beautifully lacquered in a swirling, wave-like pattern of red and black lacquer. The lacquer shaft is connected to the natural bristle brush by a bulbous wood ferrule. One of the four treasures of the scholar's studio, this striking scholar's brush would have made an attractive companion to a fine brush pot. Very good condition; most likely dating from 1900 - 1930. DIMENSIONS: 15 1/2" long... Click for details
$735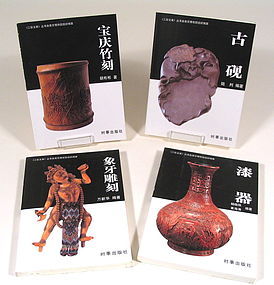 Four Chinese Books on Chinese Antiques
BK14
DESCRIPTION: Four small books written in Chinese, each relating to a different discipline of Chinese works of art. Each is richly illustrated in full color with many examples of the art forms covered. In the first photo listed here, starting at the upper left and going clockwise, is a book dedicated to bamboo arts, including brush pots, baskets and boxes. Next is a book dedicated to ink stones, from simple to elaborate. The third volume richly illustrates cinnabar lacquer pieces from the Han... Click for details
$45 for set of four

Vintage Chinese Bamboo Wrist Rest with Calligraphy
SCH202
DESCRIPTION: A Chinese scholar's wrist rest crafted from reddish-brown bamboo, the surface covered with fifteen lines of finely carved, raised calligraphy citing a 1962 poem by Mao Zedong. Excellent condition. DIMENSIONS: 11" long (28 cm) x 3" wide (7.6 cm).
$595
Large Chinese Bamboo Basket
BSK44
DESCRIPTION: This wonderful Chinese bamboo basket is one of the nicest we've ever offered. Pleasing in form and expertly handcrafted, the entire basket is tightly woven from bamboo strips in various sizes, forming a pleasing design. Chinese characters are found inside the removable, cone-shaped lid. Three long bent bamboo strips form the handle. Very attractive and in excellent condition. DIMENSIONS: 24" high including handle (61 cm) x 18" diameter (45.7 cm).
$550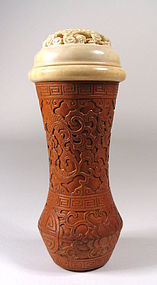 Fine Chinese Gourd & Ivory Cricket Box, Qing Dy
SAO18
DESCRIPTION: An exceptional gourd cricket box (or cage) with a fitted, intricately carved ivory cap. This finely molded box exemplifies the best of Chinese "gourd arts" with invisible seams, a complex design, and crisp impressions covering the body. Key-fret borders wrap around the shoulders, waist and foot with leafy floral designs between. The deeply pierced ivory lid is carved in the form of a dragon in the clouds with a flaming pearl. Rarely do we see a cricket box made with such... Click for details
$2,660
3 Previous
1
9
16
23
30
37
40
41
42
43
44
45
46
Next 4