Southwestern Sterling Pendant with Large Multicolored Stone
W-JO32
DESCRIPTION: Late 1900s, a fine sterling pendant with a cut-out flourish on the pendant plate and with a large, colorful calsilica stone, also called "rainbow calsilica," this one reflecting the painted colors of a Southwestern mountain desert at sunset. Very good condition, marked "DTR" (Desert Rose Trading, NM), ".925" (indicating sterling silver). DIMENSIONS: Pendant is 2-1/2" long.
$495.00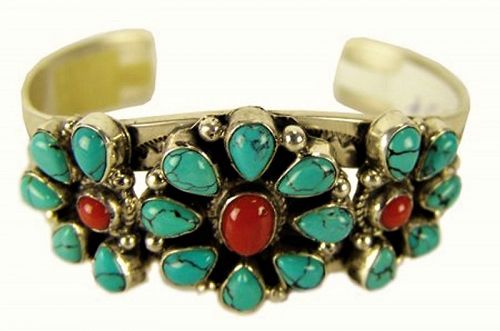 Sterling, Turquoise & Coral Navajo Cuff Bracelet by Leonard Jackson
W-JO34
DESCRIPTION: An attractive Native American sterling cuff bracelet, late 1900s, by Navajo silver artist, Leonard Jackson. This striking and somewhat delicate design features three natural stone flowers with turquoise petals and coral centers mounted onto a sturdy sterling cuff with fine hand-stamped designs. Very good condition, no chips to any stones, signed "L Sterling J." Beautiful colors, very attractive and comfortable on the wrist. DIMENSIONS: Center flower is 1" square; 2.5" inside... Click for details
$795.00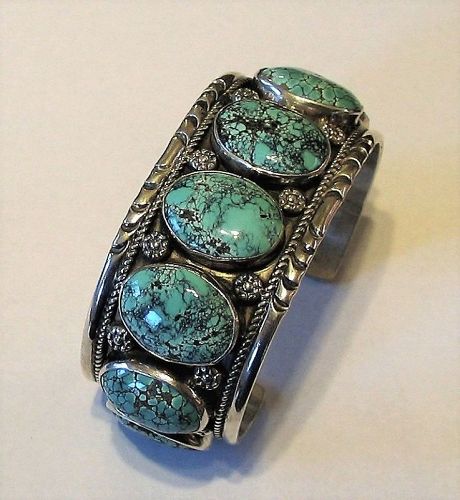 Excellent Sterling & Turquoise Navajo Cuff Bracelet, Signed LLS
W-JO3
DESCRIPTION: An impressive Native American, hand-crafted, sterling silver cuff bracelet with a wide band set with eight large turquoise stones, each having brown to black veining. Each stone is framed by four silver flower beads, all within a silver twisted wire border. Excellent condition, no chips to stones, very comfortable and beautiful on the wrist. DIMENSIONS: Inner circumference is 6.75" including wrist opening (adult medium size); 8 stones, each 3/4" x 5/8"; band is 1.25" wide;... Click for details
$885.00
Vintage Geometric Navajo Rug
W-RG13
DESCRIPTION: A hand woven Native American rug in a traditional tumbling blocks pattern, a Navajo motif also found in Americana quilts. This attractive, double sided, flat weave wool rug uses natural dyes in red, black and tan to form the block designs. Very good condition, no holes or tears. DIMENSIONS: 55" x 35".
$1,250.00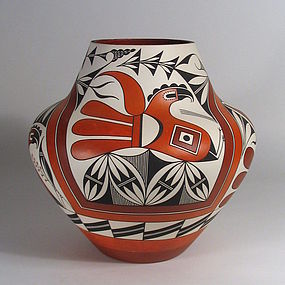 Large Acoma Olla with Parrots, Adrian Vallo
W-PT9
DESCRIPTION: A quite spectacular Acoma pot of great size and shape with a wonderfully complex design by Acoma artist, Adrian Vallo. A double rainbow of light and dark sienna bands divides this beautiful greenware olla into four quadrants, with two lively dark-sienna parrots below the arched rainbows, and two lighter sienna parrots above horizontal rainbow bands. Additional geometric designs in black on white are executed with clean, crisp lines. Very good condition, minor surface scratches,... Click for details
$1,895.00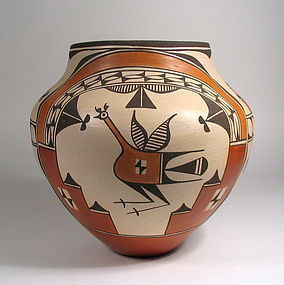 Large Zia Pottery Olla, Elizabeth Medina
W-PT5
DESCRIPTION: A large, hand coiled Zia Pueblo Olla by noted Zia potter, Elizabeth Medina. This well formed pot has high shoulders tapering to a narrow foot, and is painted in four traditional Zia colors with natural sienna, burnt sienna and black designs on a white ground. The design is divided into four quadrants, two with lively, hopping roadrunners under rainbow arcs (a signature Zia design), and two with capped feather designs appearing as orange steps outlined in black with semi-circular... Click for details
$2,150.00
3 Previous
1
2
3
4
Next 4