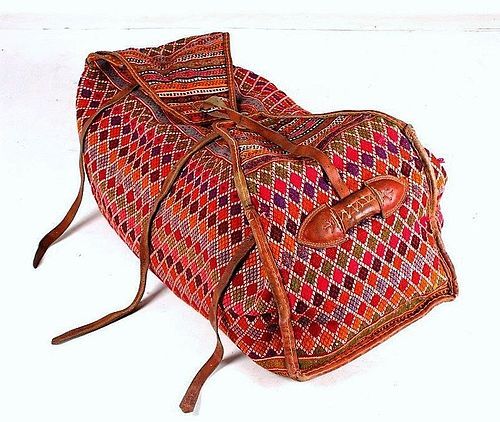 Antique, Hand Woven Turkish Dowry Bag
TX73
DESCRIPTION: A large, colorful Turkish dowry bag, hand woven from wool and bordered with leather straps and handles. The vibrant, multicolored geometric design covers all sides of the bag and the two top flaps. The bag is secured by three long leather straps with buckles that close the bag horizontally, and a leather strap and buckle that secure the two top flaps. Two substantial leather handles are attached to each end for carrying.
Bags like this one were often used to deliver the... Click for details
$1,075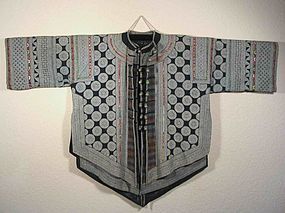 Remarkable Chinese Minority Tribe Batik Jacket and Vest
TX58
DESCRIPTION: A fine two piece batik jacket and matching vest by the ethnic minority tribe "Ge," a subgroup of the Miao culture. The Ge people live along the banks of the Chong-an-jiang River in Guizhou Province and are superlative batik artisans.
For this labor intensive creation, hot wax was applied to the thick cloth in geometric designs consisting of a background of "wheels" edged in wide linear borders. The cloth was then dyed in indigo, dried, and the wax melted and washed... Click for details
$995
Vintage Chinese Hill Tribe Pleated Festival Skirt
TX69
DESCRIPTION: A colorful, tightly pleated woman's festival skirt with vertical stripes of blue, green, red and magenta silk panels hand stitched to the black cotton ground. A wide cotton border of blue, black and red horizontal stripes finishes the hem. The wide waistband is worn folded over the waist ties after they have been tied around the waist. Very good condition and dating from the first half of the 20th C. (pre 1950). The last photo shows a young Miao girl wearing a similar pleated... Click for details
$265
Chinese Ethnic Minority Hill Tribe Woman's Jacket
TX65
DESCRIPTION: An attractive woman's jacket made from a leatherized dark blue cotton with batik sleeves trimmed in white. The jacket's square neck is bordered with a band of batik and appliquéd trim; the waist is narrowed and closes with inner and outer ties. The blue and brown circular patterns on the batik sleeves are made using a technique of manual wax-resist dyeing, with melted wax applied to all areas that are not to be colored. The artist can then selectively color the fabric by soaking... Click for details
$450
Chinese Ethnic Minority Hill Tribe Woman's Jacket
TX64
DESCRIPTION: A black cotton woman's jacket, appliquéd with colorful bands of intricate needlework panels. The embroidery on many of the panels is exceptional with sequins scattered among floral, geometric and bird design motifs. Some of the finely embroidered panels appear to be much older than the jacket itself; this is not surprising as beautiful needlework is highly prized in minority tribes and is passed down through families for generations. This jacket is stunning enough for formal... Click for details
$455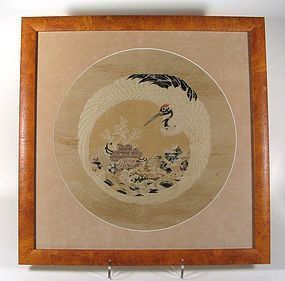 Framed Japanese Silk Brocade Fukusa with Crane
TX45
DESCRIPTION: A Japanese fukusa of brocade silk in a supplementary weft weave with both silk and gold metallic threads forming the design of a large crane with wings encircling various sea treasures. Used a gift cover and traditionally draped over a gift given for birthdays or New Years, the choice of an appropriate fukusa suited to the occasion was an important part of the gift-giving ritual. This one has been matted and set in a handsome burl frame. C.1920; wear to threads in a few areas. ... Click for details
$485
3 Previous
1
2